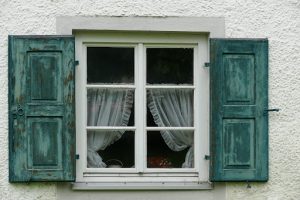 There's a lot you can do with magnets and curtains. If you're decorating a new house, sprucing up an old one, or setting up a showroom or retail space, curtains can pull the decor together. They can give you privacy, show off your style, and help regulate the temperature and lighting in the room. 
Curtains can, of course, become a nuisance, too. Whether you don't want to drill into your wall to hang a rod, the curtains themselves aren't staying put (in an open or closed position), or you just want a more stylish way to pull the fabric back and let the light shine in, we have a magnet hack for you. 
Hook Magnets to Secure Curtain Rods
Many rooms will have some sort of ferrous material behind the walls or will incorporate magnetic materials in their design. That's the perfect place to secure a curtain rod with hook magnets. Picture a metal kitchen door with a smaller square window near the top. You might want to put a short curtain there for privacy. If so, put two magnetic eye bolt hooks in the top left and right corners. Then, you can lay a short rod between them on which to hang the curtain. Our 12 pound magnetic eye bolt hooks (reduced by ⅔ when used vertically) should do the trick. 
Magnets to Pull Curtains Back
Here's when you can get crafty. If you want to make something to hold your curtains back, consider using our magnetic jewelry clasps, specifically the breakaway or claw variety. For example, if you're going to use a gold cylinder claw, attach it to the desired decorative chain, wrap it around the width of one side of curtains, and clasp the magnet together. If your curtains are made of heavier material, you may want to use stronger cylindrical clasps. There is a hole in their center so you can use decorative rope, braided thread, wire, or a chain through the center. 
Magnets to Keep Curtains Closed
Are you the kind of person who, when they want to sleep in, can't let even a sliver of sunlight through the curtains? If so, you might want to consider using magnets to keep your curtains securely closed. This will require some familiarity with a needle and thread or a sewing machine. First, choose your preferred size of sewing magnet. Meticulously line them up (+ and -) on either side of both curtains where you want them to connect; then, sew or embed the magnets to create a closure. Be sure to match flat side to flat side for the best result. 
Crafty Curtains Using Apex Magnets
We cover so many topics on our blog — the latest news, historical discoveries, DIYS and crafts, and magnetic hacks for businesses. If you want to join our community of like-minded magnetic lovers, take a deep dive on the blog or join the newsletter on our website.