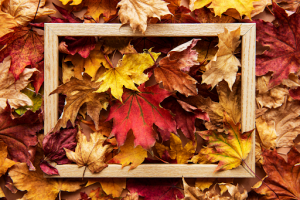 Over the years, we've shared some of our favorite ways to incorporate magnets into home decor and art projects for the whole family. For this DIY project, we're showing you a simple way to create seasonal wall art that can be swapped out for every holiday, season, occasion, or aesthetic! 
Supplies Needed: 
Cardstock 

Scissors

Cutting mat 

Ruler 

Adhesive 

Photo frame (whichever size you want to hang or display in your home)

Metal sheet

Optional: Autumn-themed cookie cutters
Directions: 
Draw whatever shapes you want to use to create your picture. If you want to make a turkey, for example, trace your hand to make the body and feathers, and use a different color paper to make additional feathers. If you want to make it more of a scenic fall landscape, trace some leaf-shaped cookie cutters onto your paper. You can also take a more abstract approach and use rectangles, circles, and other shapes from muted fall tones to create a fun piece of art.

Cut out your shapes and attach a

6mm x 1mm disc magnet

to each piece. If they are on the smaller side, you'll only need one magnet for each shape. For larger pieces, you'll want at least one on each side. 

Cut a piece of cardstock to fit the size of your frame. This will become the background of your artwork. 

With your frame face-down, place the cardstock down first. Then, add the metal sheet and replace the back of the frame to hold everything together. 

Once you flip over the frame, you'll have a blank canvas to create your masterpiece! 

When winter comes, you can swap out your autumn-inspired decor for snowflakes, snowmen, and other seasonal items to use your frame year-round. 
If you end up doing this craft with your family, send us some photos or share them on our Facebook page! We can't wait to see what you come up with. For more seasonal crafting inspiration, visit the magnets for crafts section of the Apex Magnets blog.