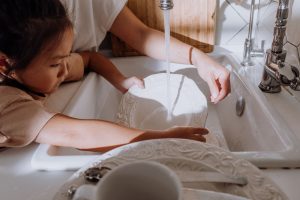 Whether you're a parent, teacher, or babysitter, chore sheets make for an excellent, fun way to keep kids focused on the task at hand and learn responsibility. But why not take it one step further? If you make the chore sheets together — essentially turning it into an arts and craft activity — you'll get double the benefit. You'll teach the kids how to follow directions and flex their creative muscles. 
Naturally, magnets are a key element in this project, so make sure you supervise your kids the entire time. Don't allow them to play with the magnets because they can pose a choking hazard. 
10 Steps to Make Magnetic Cookie Chore Sheets
If you want to make chore sheets out of cookie sheets with your kids, walk through the following steps: 
Get your supplies!

Laminator

and laminating pouches

Scissors

Quick-dry adhesive 

Cookie sheets

1 can of spray paint

Cardstock

Hot glue gun

1" circle paper punch

Drill

Die cut

Ribbon

Chore chart and progress chart printable

Print out a

free chore chart(s)

of your choice; laminate.

Spray paint the cookie sheet in the desired color (2-3 coats); let it dry thoroughly. 

Use a 1-inch circle punch to punch out printed pictures of each chore.
For example, if the chore is to sweep the kitchen, the picture might be a broom.
Hot glue a chore picture to a magnet; repeat until all pictures are on magnets.

Cut letters out of cardstock to spell your kid's name; adhere them with quick-dry adhesive. 

Cut letters out of cardstock to spell "To Do" and "Done;" adhere them with quick-dry adhesive. 

Cut out the progress chart (bottom of printable) and hot glue it to the cookie sheet.

Drill two holes into the top of the cookie sheet; thread ribbon and tie a bow; hang on the wall. 

Start assigning those chores!
As your child does their chores, have them move the "To Do" magnets to the "Done" side. 
DIYs and Magnet Hacks With Apex Magnets
If you like magnetic DIYs, then we have good news for you! Our blog details all sorts of magnetic crafts, and we love to see what you come up with. Share your pictures via email or through our Facebook page. We might even re-share your biggest successes!