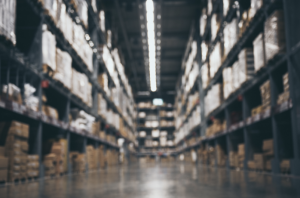 From Thanksgiving to New Years Day, supply chains are consistently tested to see if they can handle an influx of holiday orders both online and in stores. If supply chains are not flexible to meet demand, orders will arrive late and stores will have limited inventory. On top of that, the pandemic has added further issues to supply chains. In the news, we've seen supply chain issues in many industries, ranging from Christmas tree shortages to supply issues with chicken nuggets. Because of the ongoing supply chain issues and the holiday season shopping, now is more important than ever to ensure your supply chain is flexible to adapt to unexpected problems and high demands. The good news is that your company can use simple tools, such as magnets, to make a big difference. 
Organize Your Warehouse With Magnets 
Label Shelves
To ensure your warehouse is more organized, consider using bendable silicone magnetic clips to label shelves, raw materials, and inventory. You can write labels directly onto magnetic clips with a sharpie or chalkboard marker. By doing so, employees can find inventory easily and quickly, which will speed up your supply chain. Another advantage of using bendable magnets is that you can relabel and move them to another location if processes need to be adjusted or inventory needs to be moved to another location. 
Secure Documents
Magnetic pins and clips can also be useful to organize a warehouse. They can hold documents, laminated or metal sheets, wayfinding material on magnetic surfaces, or notes on whiteboards and magnetic surfaces. They are a more secure and cost-effective option than using paper clips or fridge magnets. Magnetic pins and clips will prevent you from spending time searching through papers, assembling separated documents, and locating items. 
Create a Tool Holder
When you need tools easily accessible or on-hand, consider creating a magnetic tool holder. You can purchase a custom block magnet to attach to a magnetic surface. Then, you can glue a disc or block magnet to one side of the tool. Consider using a 1.25'' x ¼'' disc magnet with a thirty-pound pull force or a 1'' x ¼'' x ¼'' block magnet with a thirteen-pound pull force. Note: You may need to use a smaller or larger disc or bar magnet depending on the size and weight of the tool.  
Hang Signage 
Adhesive-backed magnets can be incorporated into warehouses to hang signage. It's an easy and cost-effective way to label processes, materials, and safety and hazard signs. Depending on the size and weight of the signage, you can use  ¾'' x 1/16'' adhesive-backed disc magnets with a 4.6-pound pull force or ½'' x ½'' x 1/16'' adhesive-backed block magnets with a 3.5-pound pull force. 
Warehouse Automation 
Whether you're looking to socially distance in your warehouse or automate/speed up processes, you can implement a magnetic robot end-of-arm. They can pick up, place, and position iron, steel, sheet metal, and other ferromagnetic objects. Magnetic robotic end-of-arm tools are commonly used in automotive industries to move large steel parts or in the medical field where precision is necessary, but they can also be used in other business processes. 
Automation can help reduce face-to-face contact, manual effort, and overall costs. By implementing magnetic robots, supply chains could be made more efficient and socially distanced for the holiday season. 
Purchase Neodymium Magnets From Apex Magnets
At Apex Magnets, we sell a variety of neodymium magnets to make your supply chain more flexible for the holiday season and beyond. You can spend more time focusing on managing supply chains instead of dealing with the day-to-day organization and efficiency issues. 
We also offer custom magnets, so you can order custom magnets in various shapes, sizes, and strengths depending on the particular application. Fill out our custom magnet request form, and we'll review your RFQ within 1-2 business days for FREE. There's no obligation to purchase. As always, if you have any questions about our magnets or custom magnets, don't hesitate to contact us at 1.304.257.1193.