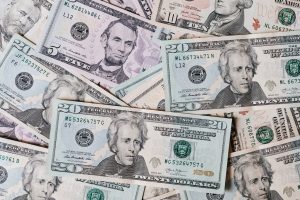 Whether you are picking something up at the grocery store or buying a midday snack from the vending machine at work, you likely grab cash from your wallet almost every day. What you might not know about dollar bills is that they contain iron oxide, a magnetic ink. This is used in order to cut down on counterfeiting efforts. Today, we are looking at a simple experiment you can do in order to see a dollar's magnetism for yourself. 
Supplies
Luckily, this may be our shortest supply list yet! All you need is a dollar bill and a neodymium disc magnet. If you do not have any disc magnets at home, you can order some from our website and enjoy same-day shipping if you place your order before 3 PM EST. Once your magnets arrive, clear off some space on a flat surface and begin your test. 
Experiment 
Conducting the experiment is almost as simple as gathering the materials. Just place a magnet on top of a dollar bill, then slowly lift the magnet. If the magnet is strong enough, it will lift the bill. You can also move the magnet's location on the bill to see if certain parts are more magnetic than others or try this experiment on bills with different values. These possibilities make this a great science project for your kids, too. Continue your research by using different magnets to see if there are any differences based on their strength or size. Find all kinds of magnetic bars, discs, blocks, and more on our website. 
Get More For Your Money At Apex Magnets
Whether you want to conduct an experiment or buy magnets for an industrial job at work, Apex Magnets has you covered. Not only do we carry hundreds of magnets, but we offer resources like a sizing guide, FAQ page, and more to help you buy with confidence and find exactly what you are looking for. To stay up to date with all of the happenings at Apex, subscribe to our newsletter.