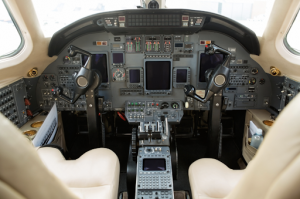 Magnets have been used in aerospace engineering for decades due to their adaptability, durability, and ability to work in extreme environments. Because of these attributes, along with their cost-effectiveness, magnets are ideal in aerospace applications. As aerospace engineering continues to advance, the implementation of magnets will become even more important than ever before. In this blog post, we've rounded up various applications of magnets in aerospace engineering. 
Note: when considering which type of magnet to implement in aerospace engineering, you must consider forces, torques, field strength, temperature, and more.
Permanent Magnets
What are permanent magnets? Permanent magnets are made from other magnetic materials, meaning they can endure their magnetic field. There are many types of permanent magnets, and one of the strongest types is neodymium magnets. Because of neodymium's strength, resistance to demagnetization, and durability, neodymium magnets are extremely helpful in aerospace engineering. They can also help reduce carbon emissions, increase fuel efficiency, and improve recyclability. Neodymium magnets can help with: 
Designing advanced aerospace technology 

Detecting fluid rates

Making fuel pumps

Missile guidance 
Permanent Magnet Applications 
Looking closely at permanent magnets, samarium cobalt is one type that is highly effective in aerospace engineering because of its excellent temperature stability, high heat resistance, and high resistance to demagnetization. Samarium cobalt magnets and other permanent magnets are often used for: 
Generating power under elevated temperatures

Gauges

Missile programs

Flow regulators and pumps

Speed sensors

Rotor assemblies 

Air compressors

Creating aircraft loudspeakers

Covers for flight controls 
Contact Apex Magnets Today! 
At Apex Magnets, we sell a variety of neodymium, samarium cobalt, and other permanent magnets that can be implemented in aerospace engineering. We also offer custom magnets, so you can order custom magnets in various shapes, sizes, and strengths depending on the particular application. 
Simply fill out our custom magnet request form, and we'll review your RFQ within 1-2 business days for FREE. There's no obligation to purchase. As always, if  you have any questions about our magnets or custom magnets, don't hesitate to contact us at 1.304.257.1193.