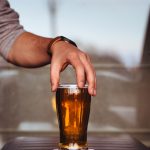 'Tis the season for holiday hosting! When you're getting your house ready to throw a family get-together, be sure to take precautions to protect your furniture and other belongings from spills, stains, and other messes. That's why we've put together this simple marbled coaster DIY. The best part of this project? The coasters are magnetic, so you can stick them on your fridge when you aren't using them for easy clean up as well. 
What You'll Need: 
Polymer clay set 

Parchment paper

Rolling pin

A round cookie cutter (or any other shape you want to use!)

Gloss glaze 

1/2" X 1/8" Ceramic Disc Magnets

— you will need two magnets per coaster

Glue
Steps:
First, choose which colors to mix together for your marbling effect. It's always a good idea to use whites, grays, and other neutrals paired with a brighter color in order to get a good contrast. 

Your polymer clay will likely come in block form, so you'll just have to slice off a portion for the amount of color you want to use. If you want more of one color to show up in the coaster, just slice off a larger portion. 

Then, roll each slice by itself until it forms a long strand. 

Once you have all of the colors rolled out into long strands of roughly the same length, twist the strands together. After twisting, roll the twisted strand into a large clay ball.

Place the clay ball on parchment paper — to help keep the clay from sticking to the counter or table — and roll it out with a rolling pin. If you don't have a rolling pin, you can use a wine bottle or cylinder-shaped container of a similar size to flatten the clay.

By the time you're done rolling, you'll want to be left with a disc that's about a quarter of an inch thick.

Using your cookie cutter, cut out shapes from the marbled clay. 

After your coasters are cut out, carefully place them in the oven on a parchment paper-lined cookie sheet and bake at 300 degrees for 25 to 30 minutes. 

Once the coasters have cooled, use a gloss glaze to seal the coasters and give them a little pop to finish the project. 

To make your coasters magnetic, glue two

ceramic disc magnets

to the back of each coaster and let dry before hanging on the fridge or another magnetic surface.
With a little clay, some heat, and a few Apex magnets, you'll have yourself a set (or more!) of coasters for entertaining all season long! It's also a great project for kids if you omit the magnets — just add the magnets later so to keep their hands are safe from getting pinched. For more DIY magnet crafts and hacks, check out the Magnets for Crafts section of our blog!