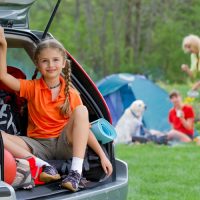 Camping out of your car is an ideal way to explore different environments in nature without compromising comfort. After all, cushioned seats provide a more preferable place to rest than a sleeping bag on the ground, and sometimes you just don't have enough energy to erect a tent after a tiring day of trekking to a campground. You also don't have to worry about wild critters finding their way into your tent.
When you want to hit the hay without all the work and pests, sleeping in your car makes a lot of sense. However, you want to make sure you're getting fresh air from outside. At the same time, opening the windows all night will let insects in, and keeping the car running for hours at a time could drain your battery. That's where magnets come in. According to an Instructables tutorial, all it takes are a set of strong magnets, some duct tape and flyscreen to make a DIY window screen, which will shield you from the elements and any pesky bugs while allowing optimal air flow. It's a convenient solution for ventilation because you don't even have to remove the screen to go in and out of your vehicle.
Step 1: Gather your materials
First, you'll need the right high-strength magnets to make your screens. Disc magnets are recommended, but block magnets could work as well. It's important to note that fine-meshed tent screen is prone to sagging as it doesn't have as much structure. To be sure you have an effective screen, opt for material that is specifically rated to keep mosquitoes out.
Step 2: Form your window cover
Measure your car window or hold the flyscreen directly against it. Then cut the screen so that it extends beyond the surface by between 1 to 2 inches.
Step 3: Secure it in place
Next, begin to attach the magnets along the perimeter of the screen with duct tape, ensuring they're evenly spaced, and then stick the screen over the open window. Lifehacker noted that you can also sew the magnets in place if you prefer the cleaner look. However, the tape has an added benefit of protecting your paint from scratches.
With your new screens, you're all set to snooze in the fresh air without every insect flying through the window. When you're not using the screen, you can fold it up and store it in the glove compartment for future use.