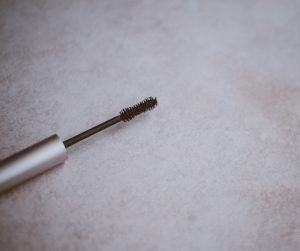 When you think about the power of magnetism, makeup is probably not your first thought. But Benefit Cosmetics' latest product might change your mind. The makeup company launched a new product as an addition to one of their most popular lines—They're Real! Mascara — changing the game when it comes to the integration of science and mascara. Is it all a gimmick though? Or will this innovative mascara set a new standard for magnetism in makeup? Let's check out the benefits (get it?).
They're Real! Magnet Mascara. 
When developing a new formula for mascara, Kate Helfrich, Benefit's SVP of global product and service innovation started thinking outside the box. She was inspired by the force of magnets explaining, "What if we could develop a mascara with the same power? A new kind of mascara where the brush and formula were attracted to each other by a magnetic force?"
To see if this could be done, Helfrich and her team elicited help from a group of world-class engineers and scientists. Yohann Bichon, head of mascara development for Benefit's parent company was recruited for the task.  Working to strike a balance between the right magnetic strength, one that was strong enough that it wouldn't pull too much product, yet weak enough to attract enough of it for the perfect lengthening effect. But, even an expert like Bichon was stumped, and it took four years to work out the challenges with development. 
After years of perfecting this science though, Benefit's They're Real! Magnet Mascara has been born! 
The Magnetism Behind the Mascara
The magnetic magic comes from the formula and the magnetic core of the brush. Helfrich explains, "The Magnetic Mineral Enriched Mixture is made up of black iron oxides. These black iron oxides have a special octagonal shape, which contributes to the formula's intense, saturated, supercharged black color." 
The mascara was designed to have these two forces —the brush's magnetically charged core, and the magnetic formula —that work together to coat the mascara beyond the tip of the lashes. Now, does it work? Apparently, it's been very effective, with tests reporting that this combination made lashes 40% longer. Benefit's magnetic mascara is the first of its kind, and this dynamic new formula is awaiting patents in the U.S. and Europe, so we're sure there will be more developments in the future.
Get The Latest Magnetic News With Apex
We are constantly on the lookout for new magnet discoveries. To be in the know about magnets, magnetic breakthroughs, and industry news (as well as some really great discounts), subscribe to our newsletter or check out our blog.