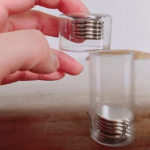 Image pulled from Yukako Hihara's Instagram account. 
Japenese artist and designer Yukako Hihara has designed a pair of "anti-gravity" shoes. The reason for this creation? Yukako explained, "I wanted to make the impossible, possible. When I was a kid, I dreamt of flying, like Peter Pan, walking on the clouds or even the moon." Read more below on how repelling magnets are the key to Yukako's design.
The Shoes
The main body of the shoe is made using a clear polyurethane. In the first prototypes, Yukako used gel, foam, and wire mesh. She also tried creating soles made of plastic rubber tubing. Yukako used her Instagram to document the design process of the shoes since last February.
How They Work
In the current design, the shoe uses four flat disc-shaped magnets -- two of which being embedded in the outsole of each shoe and the others built into the removable insoles. By using magnets with matching poles, a repulsive force generates a resistance that can be felt with each step. This repulsive force is what gives the shoes their "anti-gravity" feel. If we were making a prototype of the anti-gravity shoe, we'd likely use 2" x ¼" disc magnets. The pull force of the magnets we'd need, however, will depend on the weight of the person wearing the shoe.
The Future of Anti-Gravity Shoes
Yukako says that right now, the magnet doesn't provide enough magnetic force that the shoe would completely float when walking. She sees this as a point of improvement, as the ideal design would stay "floating" in the air. 
To stay up-to-date on how magnets are being incorporated into fashion, check out our magnets in the news blog or subscribe to our monthly newsletter. You'll also get access to exclusive deals and sales!