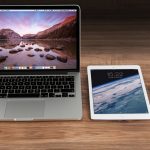 Over the last few years, we've seen an increase of magnets being used in our everyday technology: wireless charging for electronic devices, cases that protect our technology from falls, and even tablets that contain a significant amount of magnets to attach useful accessories. When it comes to combining the power, utility, and versatility of magnets with our technology, it's no secret that Apple is ahead of the game. Here are a few ways that Apple has integrated magnets in their device designs.
iPad Smart Cover

In its time, the iPad Smart Cover was an exciting, multifunctional accessory. Magnets not only lined the edge of the iPad to hold the cover in place, but they also transformed the iPad cover into a convenient stand. In addition, the Smart Cover helped save battery power by "sleeping" and "waking" the device—when the screen was covered, the iPad went into sleep mode, and when it was uncovered, the iPad woke up.
MagSafe Charging Adaptor

Although Apple doesn't use this magnetic feature in their newer devices, it was an attractive selling point for those who were worried about accidentally tripping over cords and damaging their technology. The MagSafe Charging Adaptor prevented the laptop from falling when the charging cord was pulled or tripped over. The magnets were strong enough to hold the charger in place but weak enough that when pulled, the cord detached from the machine.
Apple Remote Storage
When Apple created Front Row, a (now discontinued) software used to enjoy multimedia elsewhere in the same room as your Mac, they also produced a remote reminiscent of an iPod nano. The remote could be stored on the side of the Mac with the use of magnets so that it wouldn't be misplaced.

Apple Watch

The Apple Watch utilizes magnetism in a few different ways. First, the watch doesn't depend on clip-on chargers or minuscule charging ports. Instead, it uses a charging dock featuring magnets that "snap" the watch into place. It also has magnetic bands that can be switched out easily. The watch's Milanese Loop uses a magnetic clasp to securely attach any excess band, while the Modern Buckle band uses a magnetic clasp that appears as a single buckle-style piece.
AirPods
If you don't own a pair of AirPods, you may not know that they have a magnetic component. The small earbuds come with a magnetic carrying case (that also doubles as a charger for your headphones!). When the AirPods are placed in the case, they power down. Third-party companies are now also making magnetic straps for the AirPods so that they more closely resemble a pair of wireless Bluetooth headphones.
We believe that this is just the beginning of Apple's use of magnets. As technology advances and the company finds ways to make their products more complex and compact, magnets will continue to play a significant role in design and execution. Interested in learning more about how magnets are used in our everyday lives, sometimes without us even realizing it? Stay up-to-date with our Magnets in the News blog, or subscribe to our newsletter for magnetic updates and deals.