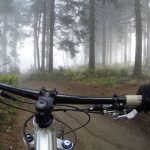 If you've ever been mountain biking, you know that it's important to attach your feet to your pedals, but it can lead to some pretty intense crashing and injuries if you aren't able to detach yourself from the pedals should an accident occur. The company magped is working toward addressing this issue with a magnetic form of clipless pedals. These pedals make it easy for riders to release their foot from the pedals at any given time, which can help lower the risk of crash and injury from delayed repulsion. The Austrian company started a Kickstarter campaign for the magnetic safety bike pedals and as of June 2019, have received 277 backers and approximately $28,000 to support the pedals.
How Magnetic Pedals Work
The concept of magnetic bike pedals isn't new—MagLOCK bike pedals have actually been around for a few years. magpeds were engineered differently, however, and show a few promising traits that set them apart from MagLOCK. One stark difference between the two is the orientation of the magnets. The magnets on MagLOCKs pedals are adjustable, so you are able to add and remove magnets to change their pull force, while magpeds only have one large neodymium magnet. Because of this, the pull force of the pedals remains constant. 
With magpeds, you're able to vary your foot placement while maintaining the pull force because the magnet is not rigid like the magnets in the MagLOCK pedals. This is due to the placement of the neodymium magnet—its mounted on a flexible polymer damper, so it'll move with your foot. To release your foot, you can simply move your foot sideways, as this breaks the downward pull force. In the case of a crash, you can also pull your foot straight up from the pedal and it'll release as well. 
More About magped
magped currently has two different types of pedals: SPORT and ENDURO. There are three magnet strength options for SPORT (100N, 150N, and 200N) and two options for ENDURO (150N and 200N). The size recommendations are based on the weight of the rider, as the larger the rider, the higher N-rating you want your magnets to have since the pull force will be stronger. The accompanying shoe plate is compatible with any Shimano Pedaling Dynamics (SPD) bike shoe and can be mounted with two screws in only a few minutes. magped also sells replacement parts for the pedals, including replacement neodymium magnets. We don't know about you, but we're excited to see how these magnetic bike pedals help riders in the future.
Incorporate Magnets into Your Hobbies with Apex! 
This isn't the first time we've learned about magnets being incorporated into outdoor tools and accessories. Remember when we covered Leatherman's© newest multitool line? We've also published a few DIY blogs to help you get outside with the assistance of magnets, including magnet hacks for hikers and how to make your own compass! For other magnetic news and tips, visit our blog.