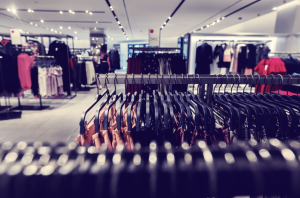 Whether you are a retailer or just looking to make a window display for your business or shop, you can use big and small neodymium magnets to make magnetic displays. Magnetic displays consist of magnetic signs, hanging systems for clothes, magnetic walls, and more. Not only do magnetic displays add versatility to your business as you can easily move magnetic objects around, but magnetic displays are also cost-effective and unique. 
Are you interested in learning about how your business can use magnetic displays? Read on to learn how you can use magnetic displays in your business!
Magnetic Signage 
In our previous blogs, we've talked about how magnetic signs are used in warehouses to label specific processes and departments as well as a great way to promote your business. Similar to these examples, you can implement magnetic signage in your shop or storefront. It offers a great way to make your brand stand out. 
You can hang signage outside your building with disc, bar, or adhesive neodymium magnets, or you can use it inside of your store. It is helpful to advertise specific merchandise and discounts as well as to create hanging POS advertisements. By implementing magnetic signs, you can easily move the signage to another magnetic surface. But that's not it — magnetic signage is durable (whether it's inside or outside your business) and it is cost-effective. To see our available neodymium magnets and custom magnets, click here.  
Clothing Racks
If you're looking for a unique, out-of-the-box way to display your merchandise, consider using a magnetic clothing rack. All you need is a bar magnet or a magnetic wall/shelf and attach hook magnets to hang products from. At Apex Magnets we offer custom bar magnets in a variety of sizes so that you can make sure it's the ideal length and width for your retail needs. Similar to magnetic signage, when you want to rearrange your business or shop, all you have to do is attach the magnet to a different magnetic surface. It's that simple! 
You may be asking yourself, "Can magnets hold the weight of my store merchandise?" The answer is "Yes." In fact, our neodymium hook magnets can hold anywhere from 12 to 200 pounds! Whether you need magnets to hold light or heavy objects, you can order custom magnets that will be ideal for your purpose. Additionally, magnets can maximize your display space by offering the ability to hang items from the ends of a shelf or under a metal shelf. Check out our hook magnets and other neodymium magnets here. 
Magnetic Walls
If you have a magnetic wall or surface in your shop or are thinking about implementing one, you can use neodymium magnets to attach shelves and panels to create store displays. This is particularly ideal for creating a shoe display. Not only will this add uniqueness to your shoe display and shop as a whole, but you can also arrange the shelving into different layouts and designs easily. 
Additionally, with a magnetic wall, you can decorate your display windows, create a decorative element inside your shop, and use it to hang artwork throughout the store. The options are endless — check out our website to purchase our neodymium magnets that are ideal for magnetic walls. 
Purchase Apex Magnets today!
At Apex Magnets, we can help you with your magnet needs, whether you're a retailer or just looking to decorate your business. We offer a wide range of magnets in a variety of sizes, including disc, bar, block, sphere, hook, adhesive, and much more! Visit our website today to purchase. 
Check out our custom magnet request form for more information about magnet sizes. Once you submit your custom magnet request form, we'll review your RFQ within 1-2 business days for FREE. And there's no obligation to purchase. As always, if you have any questions about our products, don't hesitate to contact us at 1.304.257.1193 or send us an email.