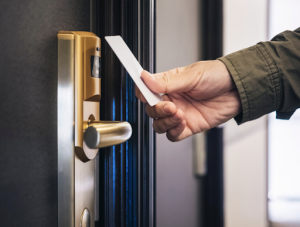 We've all likely stayed in a hotel that requires a key card to access our room. Most of the time, our key cards work, but sometimes they stop working because they become demagnetized, meaning the tiny particles on the magnetic strip inside the card are disrupted. When this happens, the particles rearrange, and the door lock doesn't recognize the pattern. 
Some believe that key cards get demagnetized by our credit cards or cell phones; however, that's a myth. Most of the time, key cards are demagnetized by the magnets on our purses or wallets. In fact, the magnets inside of credit cards and cellphones are not strong enough to rearrange the particles on key cards. 
Room keys are just one example of how magnets are used in hotels. In this blog post, we've rounded up ways magnets are used in hotels and resorts. Whether you work at a hotel or own a rental unit, you can implement magnets in several ways.
Hotel Door Locks 
Magnetic door locks have been around for years because they are easy to use and inexpensive. With the combination of these benefits and customers being able to easily enter their hotel room, magnetic door locks are worth the investment. 
If you aren't familiar with magnetic door locks, here's how they work. In order for magnetic door locks to function, there need to be two components: a door card reader and a magnetic key card. Inside of both the key card and door lock, there's a magnetic strip containing particles that must align for the key and door lock to work.  When a customer arrives at the hotel, an access number, dates of stay, and room number are programmed to the card. The customer then scans or swipes the key card at their hotel room, the lock verifies the information to grant access to the room. When the key card and lock don't match, the card will not work. If card becomes demagnetized, it disrupts this pattern and prevents the lock from reading the key card properly. 
Curtains 
One common problem in hotel rooms is that the window curtains don't stay in place. Whether you want the room to be completely dark when trying to sleep or open during the day, they never seem to stay in place. Magnets are a simple solution. With three pairs of magnets — for example, our neodymium discs — you can clasp the edges of your curtains together and keep the room nice and dark for as long as you'd like. You could also use something like our bendable silicone magnet clips.
In hotel and resort bathrooms, we often deal with pesky shower curtains.  No matter what, shower curtains often don't stay in place, or they get stuck to you in the shower. One way to solve this problem is with magnets. You can insert sewing magnets inside of the shower curtain liner so that it doesn't move in the tub. For easy DIYs on how to fix pesky shower curtains, click here. 
Duvet Covers 
Similar to curtains, you can use magnets to keep duvet covers from moving around and looking messy. By pinching together the fabric at all four corners of your bedspread with disc magnets, you can fix your duvet cover in its proper place. When guests arrive back to their room, the bed will look tidy. Plus, disc magnets are so small and powerful, you don't have to worry about bulky magnets taking away from the overall look and feel of your room.
Garbage Cans
Another easy way you can use magnets in hotel rooms is to keep garbage bags in place. Often trash bags tend to sink, snag, and move out of place, causing garbage to get left in the bin between cleanings. This makes the room harder to clean for cleaning staff. Instead, put your bag in like normal, but use a few small disc magnets and place them on top of the bag and to the (magnetic) bin. Now your bags will stay in place.  Removing the magnets for changes is easy as well. 
Detangling Cords 
When many people stay in one room, things can get a little messy when everyone is charging their phones or other devices. One solution is to use bendable silicone magnetic clips to prevent cords from tangling. Simply lift one end of the clip, insert the cord between the clip, and shut it. Now, guests don't have to worry about their cords tangling. For a video on how to use bendable silicone magnetic to detangle cords, as well as other uses, click here. 
Contact Apex Magnets Today! 
Apex Magnets sells a variety of magnets that are ideal for hotels. From neodymium disc magnets to silicone bendable magnets and everything in between, we got you covered. 
We also offer custom magnets to best fit your magnet needs. Simply fill out our custom magnet request form, and we'll review your RFQ within 1-2 business days for FREE. There's no obligation to purchase. As always, if you have any questions about our magnets or custom magnets, don't hesitate to contact us at 1.304.257.1193.