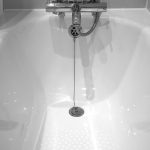 At times, our shower curtains can be quite a nuisance. We've all been there before. It's early in the morning, you've rolled out of bed and stumbled to the bathroom, barely allowing yourself time to wake up. You turn on the water, step in, and find yourself getting quickly frustrated with the shower curtain. No matter where you move, it keeps blowing toward you and sticking to your skin while you're trying to take a shower.
Luckily, there are a few fast solutions.
Install a Curved Rod
You've probably seen a curved shower curtain rod in a hotel bathroom. It extends away from the tub, drawing the curtain farther away from the water and, thankfully, your body.
DIY with a Suction Cup and Binder Clip
You can make your own quick fix to your shower curtain sticking dilemma without even going to the store! Rummage through your junk drawer or desk and find two suction cups and two binder clips. On either side of the shower, stick the suction cups to the wall. Then, clip the binder clip to the curtain. Once you're in the shower, you can loop the wire on the binder clip around the suction cup to secure it.
Use Magnets
Our favorite solution obviously involves magnets. Many times, shower curtain liners are already sold with magnets sewn into them. If yours doesn't, however, you can always use magnets to pin the curtain to the tub while you're showering. Be sure to check if your tub is made from metal, however. If it's made from plastic or fiberglass, magnets won't work.
We love hearing about how people are using magnets around their homes, even in the most unconventional ways! How you do use magnets? Let us know on our Facebook page, and check out our blog for other bathroom hacks and magnetic solutions!