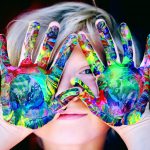 Over the years, we've shared some of our favorite kid-friendly magnetic DIY crafts, from hidden messages and magnetic slime to Valentine's Day string art and tie-dye marbled clay magnets. While parents taking the lead on magnetic crafts is crucial, as the magnets are strong enough to pinch body parts and, in some cases, even break bones, these activities are a great way to expose your child to the wonderful world of magnets and provides a good hands-on learning opportunity outside of the classroom!
When you're scrambling this summer for an activity that will keep your kids busy, try your hand at magnet painting! This messy and marvelous activity will allow your kids to create fridge-worthy work that you'll want to display all summer long.
What You'll Need
A piece of white paper

A shoebox (to keep your table mess-free!)

Washable paint

A paper clip

Scissors

Bar magnet (We suggest

this one

.)
Steps
First, you'll want to cut the piece of paper to fit in the bottom of the shoe box.

Then, you'll put a few drops of different colored paint on top of the white paper.

Slightly bend the paper clip and put it on top of the paper and paint.

Finally, have your kid move the magnet underneath of the shoe box to move the paper clip around in the box.* This will spread the paint on the white paper, creating a unique piece of artwork!
*Again, these magnets are strong and put the user at risk of injury. Be sure to hold the magnet far enough away from the bottom of the shoe box so it doesn't pinch any fingers! The pull force of this specific magnet is 4.4 pounds.

Once the painting has dried, you can make these map magnets or button magnets to hang it on your fridge for the whole family to enjoy! For other magnetic DIY inspiration, head to our Magnets for Crafts blog! From magnetic tea tin gardens to magnetic wristbands, there's an activity for everyone in your household.