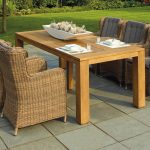 When the weather is nice, outdoor space, whether it's on a porch, deck, or patio, is often the heart of the home. Because of this, you may splurge on nicer outdoor furniture with removable cushions for entertaining guests and relaxing. Some outdoor furniture is built for multiple seasons, but to make sure it lasts, it's important to take care of the cushions and decorative throw pillows. 
Cushions, throw pillows, and other fabric accessories are vulnerable to the elements, including sun and rain. If they are soaked from the rain, there's a chance for mold and mildew to grow. When left in the sun too long, they can fade. While they are ways to care for the cushions while they're outside, such as by using covers,  cleaning them regularly with soap, and wiping off any fallen leaves, pine needles, or pollen, it's important to store them appropriately when you aren't using them during the off-season. 
The key here is to not put everything in a bag or box and shove it somewhere in the garage until next year. This is a quick way for mildew to form on the cushions and pillows since there isn't a way for airflow to get to them. You also want to be sure you're storing them in a dry place, whether that's the attic or a dry section of your basement. 
We've found a solution using what we know best—magnets. Check out our simple storage hack below for your outdoor furniture cushions and throw pillows. 
What You'll Need: 
Your couch cushions and throw pillows

3/4" x 3/4" x 1/8" block magnets

(If your cushions are heavier than 10.4 pounds, you will want to use multiple magnets or a

block magnet

with a stronger pull force) 

Fabric scraps

Sewing needle

Thread

Magnetic tape OR an iron strip and screws 
Steps: 
If you haven't done so already, take the cover off of your cushions and pillows. 

Sew one

block magnet

in the center of one edge (whichever edge you want to hang the cushion from). If you want to make the magnet a temporary solution, you can leave one side of the fabric pocket unstitched so you can remove the magnet. Since washing magnets can lead to demagnetization, this is a good option if you plan to wash the entire cushion rather than spot cleaning. 

Put the cover back on the cushion or pillow.

Find an open, airy, and dry space in your attic or basement to store these cushions and pillows. If there are exposed ceiling joists, use magnetic tape or screw an iron strip into the joist. Be sure that this section is long enough to hang the cushions and pillows while allowing for space in between each. 

Hang them up and enjoy! 
For other magnet hacks around the home, check out our blog post on how to save money around the house with magnets, or follow along with the fix it with magnets section of our blog!