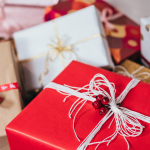 The holiday season is upon us, which means you're probably making your annual shopping list and checking it twice. While some of the people on your list are easy to shop for, others probably present a bigger challenge. We have plenty of unique magnet gift ideas for every friend, family member, and coworker on your list this year.
Everybody knows that person who's always searching for their pen. With a little help from magnets, we've eliminated the annoyance of losing your writing utensils. The auto-open magnetic pen is the perfect accessory for shop workers, coaches, students, or anyone else who's constantly moving around and needs a writing instrument that'll stay put!
This pen attaches to a lanyard through—you guessed it—magnetism, so it's always ready to write. If that isn't enough convenience in one great gift, this pen comes with another awesome feature. The tip of the pen automatically deploys when detached from the magnetic lanyard and retracts when reattached, so there's no clicking required. 
For those on your shopping list who find other putties a little too silly, our magnetic putty is the perfect solution. A simple blob of putty with iron filings creates endless fun for those inquisitive minds. When introduced to a magnet, the putty will literally move toward it all on its own. Another cool trick: place a magnet in the middle of the putty and watch it get devoured! It's like something out of a cheesy science fiction movie.
Magnetic putty makes a great stocking stuffer for teachers in need of a cool experiment to share with their students or a unique desk accessory that'll be sure to have coworkers jealous. 
With a wide array of styles, colors, and strengths, there's a magnetic pin or hook to suit everyone's needs. These babies are perfect for dorms or apartments because they provide much-needed hanging capabilities with absolutely no damage to walls or ceilings. Simply stick them to a magnetic surface and clear up some clutter.
No magnetic surface? No worries! Pair a pin or hook with an adhesive-backed magnet and you're all set. The heavy-duty pins and hooks are also great for the shop or garage. Now, tools and supplies can be stored right where you want them and free up your workspace.
For the forgetful folks on your shopping list, our keychain magnet is sure to be a hit. This simple magnet comes with its own ring to slip right onto someone's keys. Simply stick the magnet to the fridge or another magnetic surface and never worry about leaving your car or house keys behind again!
This keychain is also great for spare sets of keys around the home or office. No more digging through junk drawers or checking behind furniture to find the elusive set. With a keychain magnet, your recipient can rest assure that their keys will be right where they left them!
No matter what kind of hands-on work goes on in the shop, things are sure to get messy from time to time. The magnetic shop floor sweeper fixes that in seconds. Easier than running a vacuum or using a traditional broom, this shop sweeper scoops up all of those pesky pieces of magnetic debris that can wreak havoc on a tidy shop or garage.
From metal filings to loose screws and bolts, nothing escapes the magnetism of this sweeper. Not only does it make cleaning up much easier, but it also gives you the peace of mind that no stray nail will wind up in your tire or foot.
The tool magnetizer is a great accessory for anyone who uses nails, screws, nuts, or bolts. No more fiddling with tiny fasteners while you position the screwdriver or wrench just right. Simply run the end of your tool through this handy little gadget to apply a magnetic field. It will then instantly attract all those screws and nails, making sure they don't fall and go missing.
Need to demagnetize the tool? No worries! All you have to do is run it through the other opening and your beloved tool is back to normal. The tool magnetizer is a simple invention that is sure to save a lot of time and stress. It's also available in a mini size.
Find the Perfect Gift at Apex Magnets
These are a few of our favorite (magnetic) things, but there are plenty more! You're sure to find something attractive for everyone on your list. Make sure to check out the rest of our magnetic gifts for even more ideas.