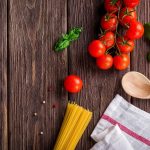 Whether you own or manage a mom-and-pop shop, a fast-casual restaurant, or something that might be considered more of a fine dining experience, you can use magnets to level up your restaurant! From organizing items in your kitchen, discreetly holding your point of sales (POS) system, wherever it might be, and advertising, be it in your own window or on a vehicle, the possibilities are endless with magnets. 
Organizing Your Kitchen
We've already shared how magnets make great tools for organizing homes, offices, and classrooms, but that's just the beginning. Another great place to utilize permanent magnets is in the kitchen of your restaurant. First, there is often a lot of steel around from which to secure your magnets –– stove, ovens, freezers, etc. Plus, in many kitchens, behind your walls, you'll often find galvanized steel, giving you another surface to easily adhere your magnets.
A quick and easy storage solution? Once you've chosen a location for your ladles, spoons, spatulas, and other cooking utensils, you can place neodymium hooks on your walls and appliances from which to hang them. You could also hang pots and pans by using a stronger, flat-surfaced magnet like our 18 mm x 9 mm disc magnet (which is only roughly the size of a penny). 
Securing Your POS
Depending on the size or type of your POS, there are a variety of permanent magnets that can help you discreetly secure your system. Where steel or other ferrous metal is present, you can use our neodymium hooks with 25 lbs of pull force, swivel hooks with 18 lbs of pull force, or for added strength, our hooks with 125 lbs of pull force –– all without impacting performance or appearance. Plus, the most convenient reason to use magnets with your POS is you can move them as often as you like, whether that means repositioning or being able to take the POS directly to your customer for easy check-out.
Advertising 
Whether you're displaying information about specials, special events, or seasonal promotions, magnets can be a great investment. Some of our smallest magnets allow you to hang signage in your windows or even on the side of a vehicle without being easily seen. For example, our 10 mm x 5 mm disc magnet is even smaller than a penny, leaving all the attention where it belongs –– on the sign for new summer cocktails, two for one appetizers, or Thursday-night trivia. 
Call Apex Magnets
If you own or manage a restaurant, magnets can help you move through your daily checklist with ease –– manage the kitchen, interact with customers, and bring in new ones. If you'd like to talk to one of our team members about additional ways you can use our product, give us a call at 1-304-257-1193. Seriously, we enjoy talking to you, so don't hesitate!