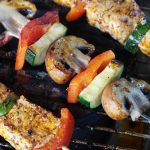 Magnets can come in handy in many tough situations. One of the great things about them is that they can hold heavy objects with a firm grip but can also be easily removed without damaging your home fixtures. When it comes to outdoor usage, hook magnets can be used in a number of different scenarios. Below we have gathered a few creative DIY uses for magnets!
If you own a stainless steel grill, magnets may adhere to it depending on its iron or ferrous material content. You can attach a hook magnet to an accessible portion of the grill to hang BBQ utensils like a spatula to add space and convenience.
Hang an ice or drink bucket up with a few strong hook magnets to save on table or lawn space. This might also be helpful for guests that now won't have to bend down to get a beverage.
Any cookout can be spiced up with a little outdoor lighting. If you have a metal-based patio overhang or other ferrous material in your backyard simply stringing your outdoor lights with some hook magnets can make for an easy lighting solution.
Lighting can set the mood of your backyard, but other decorations can as well. For instance, if you are having a birthday party, putting a Piñata in your backyard without a tree may be tricky. However, if you have metal in a spacious garage or basement a hook magnet can be used to put one up!
You can also create a garden ambiance around your home by using them to hang up some planters.
Remember that you first must have a ferrous material on which to stick the hook magnets. If you are using magnets innovatively around your home share it with us! If you have questions or other possible home magnet projects feel free to contact us.