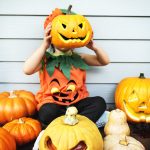 'Tis the season for spooky crafts and haunting Halloween home decor! But sometimes, all we want is a little autumn flair to get our homes ready for the holidays. Our solution? A pumpkin magnet craft! These adorable homemade magnets won't take you too long to make, but they'll leave a lasting impression on your guests.
What You'll Need:
Glass Rocks (with a flat side!)

Orange Paper

Mod Podge

Paintbrush

Green Pipe Cleaners

Hot Glue Gun and Glue

Black Sharpie

Scissors
Steps:
First, cut out pieces of paper that fit on the back of the glass rocks. The easiest way to do this is to first trace the shape of each rock!

Then, get creative with your Sharpie! "Carve" your pumpkins into a variety of faces, or leave them plain and let the magnets speak for themselves.

Once you've "decorated" your pumpkins, use the paintbrush to lightly "paint" Mod Podge on the flat side of the rock.

Stick the face/colored-sized of the paper onto the Mod Podge, and then paint another layer over the paper to help it stick.

Let the rocks dry.

After the Mod Podge is dry, place a small dot of hot glue on the back of the rock. Then, place a disc magnet onto the glue.

For the last step, cut off a small piece of pipe cleaner, place a drop of glue on the back of the rock closest to what would be considered the top of the pumpkin, and stick the pumpkin stem into the hot glue. Once everything is dried, it's ready to be used!
It's as simple as that! If you make these cute magnets, share your experience with us on our Facebook page, and be sure to visit our other DIY magnet craft blogs for more projects!