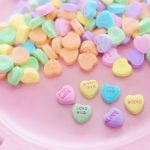 Sweethearts candies have become one of the main icons of Valentine's Day. Nearly 8 billion of these candies are produced every year around February 14, and exchanging their heart messages with friends and loved ones is easily one of the most common traditions. This year, you can create and exchange your own set of DIY conversation heart magnets with this blog.
Supplies
Pastel colored polymer clay
X-acto knife
Glue or self-adhesive magnets
Alphabet stamps
Red paint and a thin brush
Rolling pin
Steps
Knead the pastel polymer clay for 1-2 minutes or until it is easy to work with and stretch.
Lay the clay on a flat, non-stick work surface and roll it flat.
When it is about ¼ inch thick stop rolling and start cutting heart-shaped pieces out of the clay with a X-acto knife. You can even use an actual candy Sweetheart as a stencil to cut around or free-hand it.
Once you have all of your heart pieces, place them on a non-stick cookie sheet.
Indent messages on each heart piece before putting them in the oven. Use the alphabet stamps to imprint letters into the hearts.
Heat the oven to 275° and bake the hearts for 5-10 minutes. Depending on the size of your pieces and clay used, baking time could vary. Look at the baking instructions on the polymer clay packaging for recommended temperature and time.
Remove pieces from oven and let cool.
Once cool, fill letter indents in carefully with the red paint and a thin brush or stick.
Let paint dry and glue neodymium magnets to the back.
If you want to make these magnets even more authentic try sticking them in an empty container and giving them to your Valentine. However, be absolutely clear that they are magnets and not candy. You can also DIY the box. Here is a tutorial on how to make a Valentine's felt box from American Felt and Craft.