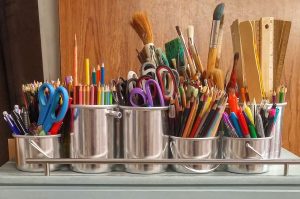 If you are looking for ways to cater to your artistic side and add some life to a magnetic surface in your home, we have a simple craft that you and your kids can enjoy. DIY lid magnets are the perfect way to channel your creativity and allow you to get as extravagant or subtle as you'd like with your designs.
Materials
Most of the items for this project should be easy to find, whether they are in your craft room or a drawer in your desk. We recommend using old juice can lids, or products with similar lids, for this craft. Collecting these could take some time, but it will be well worth it once you create a dazzling finished product! Neodymium disc magnets are also essential, and we have a large collection available. 
The full list of materials includes:
Frozen juice can lids

Neodymium magnets (

1/4" x 1/16"

is recommended, but you could use a magnet with less strength, depending on how much you decorate the lid) 

Patterned paper

Stickers, stamps, stencils

Markers

Scissors 

Mod Podge 

Fixative spray

Glue
6 Steps
Begin by washing off your lids and making sure there is no sticky residue left behind from the juice/packaging. 

Use glue to secure the magnets onto the back of the lids.

Trace the lid on the patterned paper and cut out a circle.

This is where the really fun part begins! You can apply stickers, stamps, or use stencils to draw on the paper and create fun designs. If you are up to the challenge, you can also freehand your design with a marker.  

If you use a marker, use a fixative spray to prevent any smearing.

Glue your circle to the lid and apply Mod Podge spray to complete the project.
Create and Discover With Apex Magnets
At Apex, we have hundreds of magnets that can help you conduct experiments, finish jobs at home or at work, and so much more. We even offer custom orders that are specific to your needs. Visit our website to see all we have to offer.