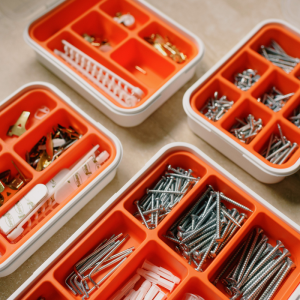 Seeing magnets in action is a great way to learn about their many capabilities. In today's DIY project, we are hanging up nails with string and watching how a magnet keeps them from swaying! How is this possible? Keep reading to find out. 
Supplies
Once you purchase your magnet from Apex, the rest of the supplies can easily be found at your favorite craft store.
Here is what you need: 
Hollow wooden craft frame (8x12 or larger to ensure there is room for all the moving pieces.)

Clear craft string

Screw (Roughly three inches, can vary depending on the frame's size.) 

Screwdriver

Ruler

Nails (About one inch, same disclosure about size screws.)

Tacky glue or clear tape
Steps
This project is simple! Be sure to be careful as you place your strings, however, to make sure they are the correct length. 
Follow these simple steps: 
Lay down your frame.

Place the screw inside the bottom section of the frame, in the middle. 

Put the sphere magnet on top of the screw. It does not have to be glued on, just place it on top. 

Evenly space out room for 8 nails and the string that holds them. 

Cut your string. It is important to not that the ideal length is 1/4" from the sphere so, depending on the placement of the nails, the length of the string may not all be the same

Glue or tape your string to the wooden frame.

Once you determine the length of the string, remove the sphere so it does not attract any nails during the rest of the assembly process.

Carefully glue your string to the nail head.

Watch and enjoy as no matter how you turn the frame, the nails stay in place! 
The south pole of the sphere is causing the north pole of the nails to repel from each other. This is what keeps them suspended in place instead of moving around. To find the south pole of your magnet, use our pole finder or a compass. 
Show your kids this cool experiment and explain how it works to give them a fun lesson in magnetism. (Make sure an adult is present while kids are near this craft.) 
*Adapted from: https://bit.ly/40p7kHT
Do More With Apex Magnets
As your kids enjoy their new magnetic sculpture, you can find new ways to capture their imagination by reading our other DIY projects! Once you pick out a new project to try, simply head to our online store and pick out the products you need. If you place your order before 3 PM EST, you can also enjoy same-day shipping!