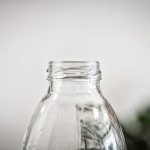 Sensory activities are something that both children and adults can benefit from. This magnetic field sensory jar craft is no exception, allowing you to create something you can keep at your desk, take with you during long car rides—while you're the passenger, of course—or keep by your bed to help you unwind and relax. This magnet craft only requires a few items to make it, but it'll provide you with hours of entertainment and relaxation. You'll find yourself caught in a trance while also learning more about magnetic fields with this DIY project. 
A quick note—this project uses Magnetic Ink Character Recognition (MICR) toner, which is a toner used for printing and processing checks. It comes in the form of powder, so be very careful when pouring it into your jar and try not to breathe it in. You can find it in a bottle with a thin nozzle, so it's easier to add to the jar and less likely to puff up.
What You'll Need: 
Mason jar or another glass jar/container 

MICR toner 

Water 

Superglue 
Steps: 
Fill your jar halfway up with water.

Add a thin layer of MICR toner, then fill the jar the rest of the way with water. 

Place glue around the inside of the lid and screw on tightly to avoid any leaks. 

Shake the jar to mix up the water and toner.

Let the jar sit overnight to let the toner soak completely.

Take the disc magnet and drag it across the jar. We recommend stacking the magnets (our

1"x1/8" discs

come in a pack of four) so that it's easier to grasp them!
Find Your Zen with Apex Magnets
After you've put together your magnetic field sensory jar, you might be looking for your next Apex project. Trust us, we get it—these crafts are attractive! Try your hand at magnetic slime, bird feeders, or marbled clay magnets. These projects will bring zen and relaxation into your life through the process of creating and taking a step back and seeing your masterpiece come alive!