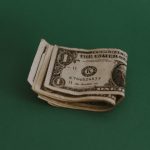 Do you have some extra time on your hands? With leather scraps and two block magnets, you can make a magnetic money clip in less than 10 minutes! Hold your loose change and paper money in a convenient clip that's equal parts stylish and convenient. 
What You'll Need: 
Scrap fabric, preferably leather

Scrap fabric to be the lining –– this can be any fabric or color you want

2, ¾" x ½" x ⅛"

block magnets

Sewing machine

Thread

Exacto Knife

Glue/adhesive
Steps:
Cut off a rectangular piece of the leather that's at least 2 inches wide and about 5 inches long. 

Repeat this for two other pieces of fabric (three pieces total.)

Take one piece of the fabric and cut it in half –– these will be the pieces that hold the magnets in place.

Glue the leather and the long fabric pieces together. 

Lay the two shorter pieces on each side of the bottom part (lining side) of the fabric.

Glue three sides of the shorter pieces onto the fabric –– you want to create a pocket that the magnets can fit inside so don't glue the entire piece together!

Sew along the outline of the fabric, leaving about ⅛ inch around the border.

You can trim along the sew line (leave some room though, you don't want your thread to break) if you want a cleaner look. 

Put one magnet inside each of the pockets that were created. Align the magnets so their north and south poles are attracted. 
There you have it! A simple DIY to keep your money all in one place. 
Get DIYs, Magnet Hacks, and more with Apex Magnets
Nametags, hosting tips, paint stick picture frames… get all these DIYs and more by checking out the magnets for crafts section of our blog!