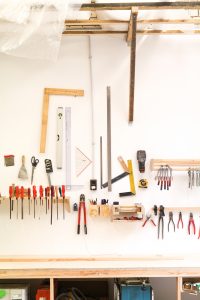 If you have a lot of tools in your garage or shed you're most likely one of three kinds of people. First, the super-organized type - at any time you could find every single tool you own. Second, the semi-organized - sure, you have a toolbox or tool holder, but do you really know where each particular screwdriver is when you need to put together your newest purchase? Lastly, the very disorganized - your tools are scattered throughout the shed or garage in no particular order whatsoever.
Well, if you are one of the two latter types of people, then we have a DIY magnetic tool holder is just for you. The project is a way to organize screwdrivers or small tools using a strong magnet. Follow the steps below to create a bracket that will house a magnet, and make finding that small Phillips head easier than ever.
What You'll Need
Thin sheet metal

Small screws

2" x 1"x 1/2" block magnet

 

Pencil

Ruler

Tin snips

Needle nose pliers

Drill and drill bit or hammer and nail
Steps: 
Start by cutting out a piece of sheet metal to 4" x 2". This will become the frame, holding the magnet in place.

Place the magnet in the center of the sheet metal and trace it, while extending the lines on each side of the magnet to the edges of the metal. You will now have drawn nine rectangular boxes on your sheet metal.

Using the tin snips, cut off the four corner boxes just drawn from the sheet metal. This will leave two 1" x 1" squares on each side of your outlined box, and two 1/4" x 2" rectangles on top and bottom.

Place the magnet back onto the original location you outlined. Carefully bend the excess metal surrounding the magnet up around itself, creating a box for it to sit in.

Two ends should have folded above the magnet. With those ends, take the pliers and bend the metal so that it is flush with the top of the magnet. These flaps will be used for mounting.

For mounting, you will now need to make holes on the flaps previously made for screws. With your drill, create holes where the screws will mount to a shelf. This can also be done with a hammer and small nail that can be removed after the holes are poked.

Mount the flaps to the bottom of a shelving unit using screws to ensure it will be secured. Now you can hang any screwdriver or small tool for easy access and visibility.
Let Apex Magnets Help You on Your Next Project
We're always working on ways our customers can use our magnets and other products, from hobbyists and crafters to manufacturers and business owners. Sign up for our newsletter to get these stories and more sent straight to your inbox each month.