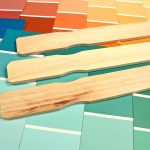 We're all familiar with paint stirrers (or paint sticks). Chances are you have a few of them tucked away somewhere. Maybe you're in the middle of a renovation or you just haven't thrown them out from years ago because you never know when you might need them again -- whatever the reason, you have these sticks laying around. We're giving you a super simple DIY project to repurpose them and bring a little personality and flair to your home. 
What You'll Need: 
Paint sticks/stirrers

10mm x 1mm

or

12mm x 2mm

disc magnets

Matte Mod Podge

Maps, scrapbook paper, and/or wrapping paper

Hot glue gun

Small paintbrush

Pencil
Steps:
Lay one paint stick on top of the paper/map and trace it around the stick. Then, measure ¼" to ½" around the outline and cut along this new outline.

Cut out the four corners of the paper, then cut slits near the divot in the paint stick.

Apply the Mod Podge to both sides of the stick with a paintbrush and lay the stick down on the paper.

Wrap the paper around the stick -- starting with the divot and ends first -- and apply more Mod Podge to both the paper and the stick. 

Apply a top coat of Mod Podge and smooth out any air bubbles.

Let the project dry.

Flip the paint stick over and apply Mod Podge to the other side of the stick.

Hot glue 2-3 disc magnets to the back of each stick. 

Wait for the glue to dry, then hang the sticks on your fridge or any other magnetic surface.
At Apex Magnets, we love reusing objects in our home and adding a magnetic spin to them. If you want more magnet crafts, check out this post on DIY map magnets or head to our magnets for crafts blog page.