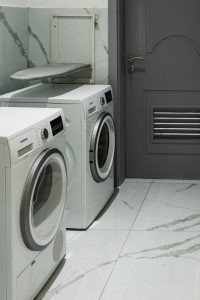 Dryer Vent Fire Statistics 
According to the U.S. Fire Administration, an estimated 2,900 fires, resulting in 5 deaths, 100 injuries, and over $35 million in property loss, are the direct result of dryer vent fires. While these statistics are on the rise, the majority of these fires are preventable with the proper cleaning procedures, including emptying the lint trap before every use and properly disconnecting and cleaning the dryer vent pipe every three months. For gas clothing dryers, professional service is recommended on a yearly basis to inspect your gas line, ensuring it is free from any leaks. While proper cleaning measures are the foremost way to prevent fires, always remember, NEVER leave your dryer running when you are away from your home or sleeping. 
Make Your Own Dryer Vent Connector 
Protect your family from dryer vent fires with this simple home hack to prevent lint buildup in your piping. Using 6"x 4"x 1/4" inch ring magnets, attach one ring magnet to the end of your dryer vent pipe and the other ring magnet to your pipe vent in the wall. To do this, you will need to remove any existing transition ductwork and cut the edge of your duct system to be flush with the wall. Using an inexpensive coupling you can purchase from any hardware store, secure your magnets to the piping and the wall. 
If attaching your coupling to drywall, we recommend utilizing drywall screws for a long-lasting hold. This method of venting allows for easy detachment of the piping from the wall for more frequent cleaning throughout the year. Say goodbye to struggling to detach the vent pipe clamps only to face the same issue when trying to reattach the pipe without bending any of the components. 
How to Properly Clean Your Dryer Vent
Once you have your handy magnetic dryer vent detachment connector in place, the next task is knowing how to properly clean your dryer vent. 
Pull your dryer unit away from the wall and unplug it

Detach the vent pipe from the wall

Use a vacuum with a hose attachment and clean where the vent pipe meets the wall as well as any lint/dust that is visible inside the piping

You can even purchase a dryer vent cleaning attachment to extend your vacuum's reach inside the vent

Clean up any debris that may have been left behind and reconnect your dryer vent

Mark your calendar for three months to repeat the cleaning process
Find More Magnetic Home Hacks That Simplify Your Life
Magnets can help keep your home safe and reduce care and maintenance for everyday tasks like cleaning the dryer vent. With the right tools and 10 spare minutes, you can create a safe and functional space that allows you to spend more time with your family and less time doing household chores. 
If this home hack has you wanting more, visit our blog for additional time and money-saving ideas released every week. Have a question? Visit our website to contact us any time!