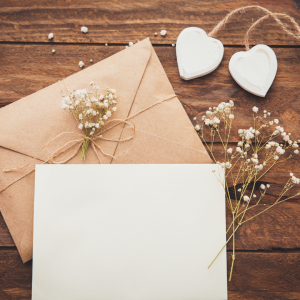 While weddings are one of the most special occasions, they can be stressful and expensive! Not to mention that most decorations and such are thrown away once the event has passed. That's why we're sharing a special DIY that'll be able to be enjoyed long after your wedding day — save the date magnets! Now, this may take a little craftiness, but you'll have unique and reusable decorations to last long after the celebration.
What You'll Need:
Glue

Mod Podge

Printed pictures

Foam board or pre-cut tiles

Pens, stamps, stickers
Steps:
Essentially, we'll be creating "Polaroid" style photos so, print out an image you want to feature. Then, cut your foam board pieces around the image. A good size should leave at least an inch of tile or foam board at the bottom for your text and ¼ inch on the sides to create your polaroid border.

Next, glue the images onto the foam board — remember, you'll want about 1/4 inch of border around the top and sides of the image!

Once dry, apply a careful coat of Mod Podge and wait to dry again.

Next, you'll add your text. This can be done with calligraphy or handwriting the details with a permanent marker, or, you can use a stenciled stamp and ink, stickers, or another print out!

Once the ink has dried, flip the foam over and glue your magnet to the back.
These are a fun and relatively inexpensive way to make save the dates. Once the wedding is over, encourage your friends and family to reuse their save-the-date magnets. Just print out an image that's the size of the entire foam board, glue it on top, and you're done!
Show Us Your Magnetic Crafts!
Let us know on our Facebook page if you try these out— be sure to share a picture while you're at it! For other fun magnet crafts, check out our magnets for crafts section of the blog or sign up for our newsletter for some ideas (and coupons) sent to your inbox each month.