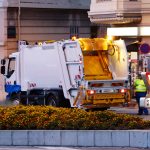 These days, people have to think about social distancing when they go to work, both from their co-workers and clients or customers. If you are in a profession such as an electrician, postal service worker, or waste collector, social distancing is even more important as you can come into contact with people and objects that are high traffic. To protect yourself, you can use magnets on your vehicle to remind passersby and clientele to stay a safe distance away at all times. 
Stay Apart to Come Together
After stay-at-home orders were enforced in many areas of the country, field crews in various industries dealt with an understandable influx of customers trying to interact with them. For example, people who were stuck at home or helping their children with virtual learning were interested to ask electricians if there would be any planned power outages. 
Obviously, during these times, we want to be there for each other in whatever capacity possible, but we still need to observe best practices and do our part to keep our fellow citizens healthy. Field crews struggled because they didn't want to incite conflict, create disruption, or cause discomfort to those looking for guidance from them. Fortunately, they thought to use magnets as signage on their vehicles to remind people to stay 6 feet away. Here's how you can to —
Magnetic Signage
The first option is to create a custom magnet sign. If that's the route you'd like to go, visit our custom form fill to choose the shape, length, width, height, strength, coating — anything! Production time is generally 6-8 weeks for all magnets with dimensions under 2.5 inches, and 12 weeks for larger magnets. If you have any questions, we're more than happy to help. 
For a quicker turnaround, you could purchase neodymium disc magnets with adhesive backing to secure a printed and laminated sign. A good choice would be the ½" x 1/16" disc with 3.84 pounds of pull force and 3M of adhesive glue! If you're looking for added security and hold, another option might be the ½" x ½: x ⅛" block magnet with 6.9 pounds of pull force and 3M adhesive glue. A third choice could be our 2" x ¼" x 1/16" long block magnet with 4.9 pounds of pull force and 3M adhesive glue. Place magnets on both the top and bottom of your sign for even more security. 
Apex Magnets
These are trying times, and the irony of ironies is: we have to stay apart to come together. Let us help you do your job safely. Leave us a message and we'll get in touch ASAP!