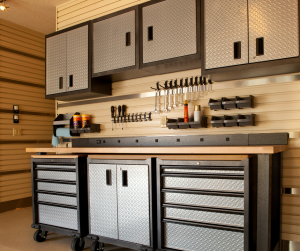 Magnets are magnificent tools! They can take on all sorts of difficult tasks, but they're especially useful for quick fixes around the house. Over time, we've written about some of these helpful fix-it situations, but we've put together a more comprehensive list of the best ones here and filed them under three categories: Securing things, making things safe, and organizing a mess. So, whenever you're ready, get to fixin'!
Securing Things
Loose cabinet drawers
If you have a pesky kitchen cabinet door or drawer that keeps coming open, you can easily fix it with magnets. This task requires a drill, screwdriver, pencil, screws, and 1/2" x 1/8" neodymium countersunk ring magnets. If you'd prefer not to drill holes, try using adhesive magnets. Find a full tutorial here!
Tablecloths
When you set a nice table for dinner or an outdoor picnic, you don't want a wind gust to blow everything away! you can use ½" x ½" x ½" cube magnets at the corners and/or along the sides — one on top and one underneath. That's it! 
Shower curtains
When you're trying to get a shower, the last thing you want is for the shower curtain to stick to your legs. The easiest solution involves magnets. Of course. First, check to see if your tub is made of some kind of metal. This won't work if it's plastic or fiberglass, but if you have a metal tub, securing something like a plastic-coated disc magnet would do the trick. 
Making Things Safe
Magnetic lights for bikes
You can affix magnetic lights to the front of your child's bike or helmet to keep them safer if they're peddling around dusk. Simply glue a strong neodymium magnet to the back of a mobile, battery-powered light source and attach it to the desired surface. For more details, check out the tutorial for magnetic induction bike light.
Find nails in wood
If you're using reclaimed wood for a renovation project, you might come across a stray nail, and if you're using power tools, this could be dangerous. You can, however, use a rare earth magnet to locate these nails beforehand. Purchase either a neodymium or samarium ring magnet and allow them to swing freely from a fishing line. When the magnet passes over a nail or stud, it will be pulled in. Bingo — no more nails!
Organize A Mess
Phone cables
Fix up your workspace by decluttering phone and computer cables in minutes! You'll need several compression springs that fit around the wires and an adhesive 3/4 x 1/16" disc magnet. Twist the coil around the base of the cable near the connector until it fits snugly around it. Attach your disc magnets to the back of the desk or in a spot that's somewhat hidden. Organize your cables by magnetizing the cord (with the compression spring on it) to the magnet.
Chip bags
Don't let another bag of chips go stale. This magnet hack requires little to no work at all. All you need is two 7mm x 1mm discs - neodymium magnets. Put one on the outside of the folded part of the bag and one on the other. That should keep your bag closed and your chips delicious!
Apex Magnets
Our magnets are good for all kinds of projects, DIYs, quick fixes — you name it. You're really only limited by your own imagination. Browse our catalogue of products to spark some ideas! If you have any questions, leave us a message.