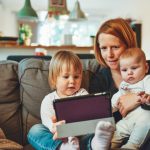 Let's face it—kids can be messy, disorganized, and curious,  sometimes which can lead to lost belongings, toys strewn everywhere, and even unforeseen messes you weren't prepared for. Luckily, for many minor inconveniences around the house, there's a magnet to help. Read on for four magnetic hacks every mom should know! 
Never Lose a Child's Cup Again
Who else is sick of picking up your child's cups over and over? With this magnetic hack, you'll never have to worry about losing track of their cup again. Simply glue a few 10mm x 2mm disc magnets on a cup (do this to as many cups as you have children). Once the glue dries, you can stick the cups right onto the fridge! This makes it easy for your children to get water from the fridge without climbing on counters and cabinets to get a cup. You can also incorporate this into their daily routine! Once they use their cups, have them wash and dry the cups and put them back where they belong. 
Keep Your Makeup Out of Reach
Do you have a child who never fails to get into your bathroom cabinets and make a mess of your makeup? Say goodbye to lipstick on your walls and mascara on the sink with this easy hack -- a magnetic makeup board. Buy a magnetic board and frame it to make it match the style of your bedroom or bathroom, wherever you keep your makeup. Then, glue a 5mm x 1mm disc magnet on each container of makeup. This size should work for most of your products, but if you have heavier objects, you'll want to find a disc magnet with a stronger pull force. Finally, hang the board up! Make sure it's high enough that your adventurous child isn't able to reach it. 
Protect Your Feet from Toy Cars
If you have children, you've likely had an incident of stepping on toy cars. To keep your feet safe in the future, and to declutter your child's room or play area, paint a section of the wall with magnetic paint. To make it part storage and part play, you could paint magnetic "roads" on the wall for the child to follow along with a car. Then, glue a 3mm x 1mm disc magnet on each car. The average weight of a matchbox car is roughly 2.4 ounces, so a little magnet can go a long way. You can then organize all of the cars on the wall so there won't be any more casualties! 
Find Your Keys in a Flash
This magnet hack couldn't be simpler. How often do you find yourself rummaging through your purse or kitchen drawers to find your car keys? Now, you can hang up your keys on the fridge so you never forget them! This effortless hack only requires that you place a hook magnet on your fridge. That's it! Never utter the phrase "has anyone seen my keys?" in your house again. 
Stay Organized with Apex Magnets 
There are many common problems around the house that could easily be solved with magnets. Don't believe us? Visit the Fix it With Magnets section of our blog to see other ways we've incorporated magnets into our homes.