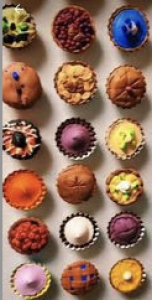 Are you looking for the perfect activity for your upcoming bridal shower, neighborhood craft night, or Friday at home with the grandkids? Why not create your own mini pie magnets that are simple to make and add a personal touch to any kitchen? Plus, with six easy-to-find household supplies, this craft is a fun and cost-effective activity for large crowds. 
With endless ways to personalize your magnets, you can substitute the suggested supplies below for others you may have around the house, or ask each guest to bring one item to share! 
You Will Need: 
Pop bottle caps 

Hot glue

Craft paint

Beads

Felt
Instructions: 
Attach your

1/4" x 1/16" disc magnets

to the back of each bottle cap 

Fill each bottle cap with hot glue to reflect the kind/type of pie you would like to make

Paint the hot glue to look like pie filling or crust

Let dry completely

Decorate your pies with hot glue shapes, beads, pipe cleaners, or make lattice with felt cutouts

You can even paint your hot glue shapes or beads to resemble fruit on a pie: blueberry, strawberry, peach - The choice is yours! 

Add any finishing touches 
From pumpkin and key lime to berry and pecan, transform your favorite pie flavors into mini decorations, favors, or gifts for grandma. And if you are feeling extra creative, try adding your own flair using glitter, craft putty, yarn, patterned tape, etc.! If you want to keep your kids engaged, try making it a contest to see who can create the best mini pie! Not only will it encourage healthy competition, but it will keep them occupied with an activity that does not involve screen time. 
There Are More Crafty Creations Where That Came From
If you have the DIY bug, we have a lot more exciting creations that will fill your weekends with fun. Get your house ready for fall or start preparing for the most spooktacular time of the year with Halloween crafts that will have your neighbors asking where you bought them. 
Get your DIY on and check out our weekly blog for the latest on all things magnets. And don't forget to share your creations with the world on our Facebook page! Have a magnet-related conundrum? Contact our magnetic gurus for quick and convenient assistance with all your questions.