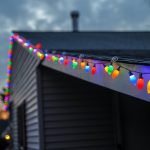 From the eggnog and gift-giving to the snow days and jingle bells — it's easy getting into the holiday spirit this time of year. Though the holidays are meant to take your stress away, we're sure you can think of a few things that do just that make you jaded and not jolly. 
One of those stressors is usually decorating — specifically, putting up the lights. If you can relate, we've got you covered with this magnetic hack — using magnets instead of traditional fasteners for a quick and damage-free light installation. 
What You'll Need:
How to:
First, you'll want to attach the magnets to the strands of lights. To do this, take a

½" x ¼" Plastic Coated Disc magnet

and

attach it to the back of the light socket using glue. You'll want one magnet every 5 or so bulbs. 

Let the glue dry and then head outside.

Now you can take your "magnetic lights" and string them across the area as you normally would. This time though, you can attach the magnetic pieces to metal strips on the roof's edge or galvanized steel gutters for a secure hold. 

You'll be amazed at how much faster you can decorate!
Get DIYs, Magnet Hacks, and more with Apex Magnets
Now, you can sit back and enjoy the festivities without the hassle! Did you enjoy this magnet hack? There's more where that came from! For even more holiday crafts, magnet facts, and more check out our full blog.