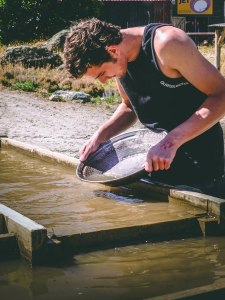 At Apex, we serve customers who use our magnets in a variety of industries and applications. Customer satisfaction is our number one priority, so that's one of the reasons why it is so exciting to hear back from customers who took creative measures to utilize the strength of our product. We recently got an amazing message about how one of our customers uses our magnets in their gold panning business! 
How Apex Magnets Help in Gold Panning
In case you don't know, gold panning is a form of placer and traditional mining that extracts gold from a streambed deposit using a pan. Valued customer Robert of Eureka Gold Panning wrote to us sharing how our magnets are one of the main tools used in his process of gold panning. By doing so, he's able to save his customers hundreds of dollars in equipment. 
Some benefits of using Apex Magnets include: 
Just one of our magnets replaces many types of expensive gold separating machinery in a panning process that he came up with called reverse stratification. 

Magnets remove the number one and number two minerals that hinder prospectors from separating their gold out. In fact, magnets have been able to remove these minerals in just a small

fraction of the time

it takes for the machinery to do it. Not to mention the cost is well over fifty times less than the machinery! 

Using a cleaner process, magnets retain 100% of the gold instead of the 85-90% that machinery delivers.
According to Robert, making this switch to using Apex Magnets has dropped the process time from days to just hours. Wow! We're so glad to be of help and we thank you for sharing, Robert! 
Magnet Fishing At Home
For those of you who don't live in North Carolina where Eureka is located, we wanted to share how you can find some treasures of your own using Apex magnets — through magnet fishing! Though not as exciting as finding gold, you can find some really interesting things. It's really easy to create your own magnet fishing tool, you just need strong, brightly colored rope and an eye bolt magnet, our 12lb eye bolt hook magnets are a great choice. 
To get started, cut a long strip of your rope so that you have enough to throw into the water and to hold it firmly, without it getting taut. Then, firmly tie an anchor knot inside the eye bolt part of the magnet. Test its strength by giving it a few test throws in an open area. Once secure, you are ready to try it out in a lake, pond or another small waterway. Read more about the mystery and fun of magnet fishing in this blog post.
Use Apex Magnets Today
Have you made something creative with your Apex magnets? We want to hear from you! Contact us on our site or message us on Facebook for a chance to be featured in our "How They Used It" series.