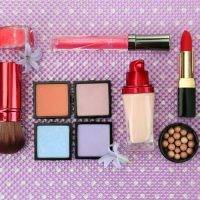 Organization is key when it comes to keeping track of all your makeup. Still, some cases don't have individual pockets, and can make it difficult to find all of your products. If your items aren't spilling out because you're building up a bigger collection, they could be buried at the bottom and inconvenient to dig out. Not being able to find your go-to eyeshadow or favorite lipstick isn't just frustrating - it can add unnecessary extra minutes to your morning routine as you're getting ready. That's why strong magnets are the perfect solution: With a DIY board, they can be used to make all of your products visible and accessible while also saving space.
Here's a DIY guide to making your own board:
First, you'll need metal backing and a frame for your board. If you have a lot of cosmetics, consider a larger frame and metal sheet. You can purchase metal at a hardware store and have it custom cut to fit the frame, or you can even use a cookie sheet or a vintage serving tray.
Now you might want to paint the frame and glaze it to match the decor of your bathroom, or wherever you plan to hang your magnet board. Spray paint is the easiest way to do this.
To make the background look more chic, find a colorful fabric or wallpaper and cut it to fit the metal sheet. Then use a spray adhesive to affix the paper or fabric to the background.
Trace the outer edges of the metal with a hot glue gun and secure it to the back of the frame.
This is where the magnets come in. While it's up to you what shape you use, disc magnets or ring magnets work best for this project. Hot glue them to the back of each product and wait for the glue to dry. While one should be enough for small eyeshadows, you may find that you need two or three magnets for larger products, like blush and bronzer.
Keep in mind that certain items, such as lipsticks or makeup brushes, might not hold up as well on your board. You can still keep them organized by gluing magnets to the back of small, lightweight cups and adhering them to the board. Then you can place those items inside the cups.
Have fun with arranging your cosmetics on the board. You can make things visually interesting and also more efficient by placing your makeup in the order that you would apply it.