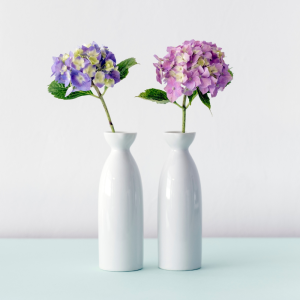 Adding some flowers to your living room, bedroom, or your favorite hangout spot is a great way to give the space a fresh feeling. Thanks to the help of magnets, and a few supplies, you can create an eye-catching arrangement made from decorative vases.
Supplies
This craft puts a lot of the power into the hands of the creator. You can decide whether you want to use real flowers, determine the number of pieces in the arrangement, etc. This project is also friendly to any budget due to the varying options. 
The full list of supplies includes:
Small vases (We recommend test tube vases)

Tacky glue

Real or fake flowers of your choice

Disc magnets (

5mm x 2mm

; this could vary due to the weight of the vase)
Steps
Once you assemble your supplies, it is time to get creative! Pick out a bare spot on your wall and come up with a fun way to arrange all of the vases.
Glue your magnets to your vase and let it dry.

Place glue on the other side of the magnet and press it gently against the wall.

Put one flower inside the vase. 

Repeat these steps until your arrangement is complete.
This project is super simple and could even receive an update every now and then. We suggest swapping out the flowers to match the seasons or holidays. Stay tuned to our YouTube channel to see our take on this project in the coming weeks.

Keep Creating With Apex Magnets
Whether you are interested in improving the decor of your home, office, or anywhere else, Apex Magnets has ideas for you! Read some of our other blogs to find something that interests you and tap into your creative side. To find the magnets you need to get the job done, just visit our online store.