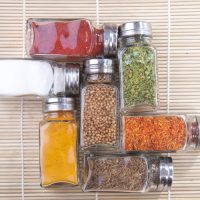 Spices are a staple in every kitchen. They can liven up any dish, taking simple meats, vegetables and grains to a whole new level. However, if you have more than a few in your collection, they can take up a lot of valuable space. Traditional spice racks can be expensive, cumbersome and get in the way of your meal preparation sitting out on the counter.
Fortunately, with a little effort and some strong magnets, you can make your very own space-saving spice rack:
Just follow this guide to keep your spices organized:
Materials
Power drill
Drill bit
4 screws
Superglue
Stainless steel magnetic base (or cookie sheet)
2-4 oz. spice jars with lids
Rare earth magnets (roughly 3/4 inch diameter)
Screwdriver
Steps
First, you'll need to drill a hole in each corner of your metal base or cookie sheet so you can later mount it wherever you see fit. You might place it above your cutting board, or even on the inside of your cabinets. If you have shelving on the interior of your cabinets, you may not be able to close the door when you place your spice rack there. In that case, consider mounting your rack underneath the cabinets.
Next, it's time to attach the magnets to your spice jars. It's crucial you use Neodymium magnets because they're the only kind strong enough to hold the jars in place, even when they are filled with spices. The best shapes to use for this project are disc magnets or ring magnets.
Add a dot of superglue to the center of each lid top and carefully press the magnet over the glue. Alternatively, you could also apply the glue directly to the magnet and stick it onto the lid.
There's no need to apply pressure to the magnets to make the glue set. Just be sure to wait 30 minutes to an hour for the glue to dry effectively.
Now that the lids are ready, you can fill all of the jars with your different spices. There are many ways you can label the jars - with a metallic Sharpie pen or with masking tape and a marker, for example. However, if you have special sticker paper, you can print labels from your computer.
Finally, it's time to attach your spice jars to your new rack. The best part about the magnetic base is you have total freedom to organize your spices however you see fit. Whether you want to group them by cuisine or place them in alphabetical order, it's easy to move them around accordingly.