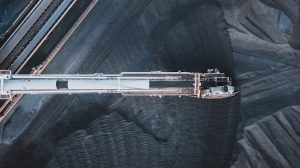 For industries that move high volumes of product, specifically mining operations that separate ferrous tramp metal in a free-falling conveyor system, you're likely to use hump magnets and half-hump magnets; however, magnetic humps are also used in the food industry and are particularly useful with products and material that clump or aggregate easily. 
How Does it Work?
Both designs, full or half-hump magnets, are vertical chutes or spouts that implement two hinged plate magnets. The flow of product is directed over the high-strength permanent magnets. The material hits the first plate then continues on in a zig-zag design to hit the second plate. Whatever metal contaminants are missed on the first plate are typically caught on the second. 
Really, the only drawback to using hump magnets in your separating process is that it requires a significant amount of space for installation. Note that half-hump magnets are used in situations where a full-sized separator won't fit. 
How Do You Clean Hump Magnets?
Thanks to the hump magnet's vertical shape and angle, most products continue to fall down the chute, making the cleaning process more manageable. Additionally, both plate magnets are hinged, allowing operators to swing them out and clean off any ferrous material that has been building up.
Customizable Apex Magnets
Let us customize a magnet for your organization's separating needs. We know that the magnet you need the most isn't always the most accessible. That's why we provide customizations for customers with specialized needs. 
Get started by filling out a custom magnet request. Remember, quotes are free with no obligation to buy. Leave us a message if you have any questions. Otherwise, let's get started!