It's almost Halloween, and if you haven't found a costume yet, then have no fear! We have compiled a list of some low-budget, last-minute costume ideas. Since we love magnets and science, we've themed this list around magnets and magnetism. Therefore, it may be a little cheesy, but we did warn you.
Magnetic man
If you have ever watched the History Channel's TV show, Superhumans, then you may know the tale of the magnetic man, Mikhail Vasilyev. In case you are not familiar with the tale, Vasilyev claims to make objects stick to his body using only the powers of his mind. You can channel his superhuman power this Halloween with this last-minute costume idea. Simply tape some silverware and other magnetic objects to your clothing.
You could also just wear a red outfit with some silver or gray boots, tape some metal objects on yourself and pretend to be an actual magnet. If you're going for the cheesiest costume at the party award, tape some toy chicks to yourself instead.
Nikola Tesla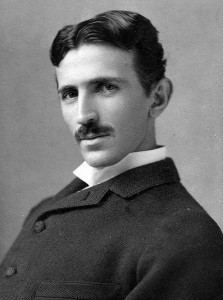 This costume idea is for the science nerds. You can be the often cited mastermind behind electricity and magnetism with a DIY Nikola Tesla costume. To quickly transform yourself into Tesla, find a vintage-looking dark suit, a common symbol of electricity (a thunderbolt) and a magnet. If you have shorter dark hair, part it down the middle and apply a thin, mustache with some fake facial hair or a marker.
Now that we have given you some of the easy, last-minute DIY costumes to try, here are some science and DIY enthusiasts that took creations to the highest level. Perhaps they can inspire some Halloween costume ideas for next year!
If one of our last-minute Halloween costume ideas helped you this year, feel free to share your costume photos with us on our Facebook or Twitter page! Also, if you have any questions about magnet products or the DIY creations, feel free to leave a comment below.
Photo: "Halloween Witch 2011" by Anthony22