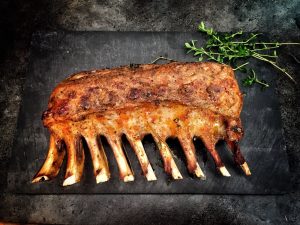 While it may be hard to imagine summer gatherings with family and friends, we promise the enjoyable weather will be back in no time! One of the best parts of these summertime get-togethers is the fantastic food options. Whether you bring your own dish or make something on the grill/in a smoker, the choices are always tasty! 
Cooking on one of the previously mentioned devices requires a lot of attention, but magnets can actually help. How so? Keep reading to find out!
Samarium Cobalt Magnets
We recently came across this post, which was inquiring about using magnets to hold some foil in a smoker. As someone suggests in the comments underneath, our samarium cobalt magnets are perfect to use in that kind of situation. Whether you want to attach utensils to the outside of the smoker, hold foil, or something else, our magnets can be used as long as it is done safely.
Many of our magnets are operational up to 572 degrees, but they should not be placed directly inside/on your smoker. If you want our rare earth magnets to help make any part of the smoking process easier, consider wrapping the smoker to prevent the release of toxic fumes from the heat. Be sure to place them on the outside of the device as well. Another advantage is that these particular magnets also come with some serious strength, including our ½"x ½' x ½' cubes, which can hold over 18 pounds each. 
If you are interested in purchasing our magnets for your next cookout, browse our entire collection of samarium cobalt magnets here: https://bit.ly/3Pe3mOb
Get More Done With Apex Magnets
With this information in mind, be sure to pick up some of these magnets from our website during your holiday shopping this year! Any grillmaster would love them and will definitely appreciate their versatility. To start shopping today, click here: https://bit.ly/3hexLiL