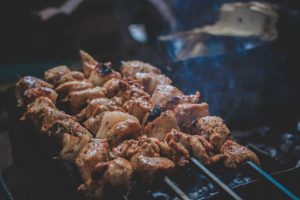 All over the country, people type into their Google search engines, "Best gifts for Dads" and "Gift ideas for my husband." If you sell accessories for grills and meat smokers, then it's your time to shine! 
For your customers who want to master the art of smoking meat, it's all about being able to work in a hands-free way. You can create magnetic accessories for smokers through the use of samarium-cobalt magnets, allowing your customers to attach things directly to the outside of their grill or smoker. Examples of magnetic accessories include recipe holders, holders for tongs and spatulas, and hands-free thermometers. 
Samarium-cobalt magnets vs. neodymium magnets are best used for accessories on the outside surface of smokers and grills. Benefits of samarium-cobalt magnets include: 
High heat resistance (up to 350°C)

Resistance to low temperatures (below absolute zero, -273°C)

Price sensitive to market 

High corrosion resistance

High resistance to demagnetization

High magnetic strength 
Naturally, the high heat resistance is the most relevant detail for anyone who sells magnetic accessories for meat smokers. Ultimately, you can adhere SmCo magnets directly to a hot smoker and they will still maintain their strength. However, be sure not to use them inside the grill or directly overtop the heat source due to the release of toxic gas. 
Apex Magnets
Due to their thermal stability, samarium-cobalt magnets are the right choice for demanding applications and industries, including manufacturing, automotive, and aerospace. They also make for excellent smoker and barbeque accessories. If you have questions for us, we love talking to customers about the ins and outs of our magnets. Contact us today!