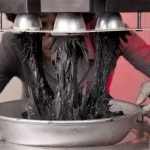 When thinking of magnetic applications, your mind may go to experiments and scientific discoveries. But what about art? Since 2011, Dutch designer Jólan van der Wiel has been using the power of magnets to create art, architecture, and fashion, showing the world that the uses of magnets are truly endless. Read about Jólan van der Wiel and his magnetic work below! 
About Jólan van der Wiel
Not much is known of him before his studies at the Gerrit Rietveld Academie in Amsterdam.  
Though, ever since he started using magnets to form objects while in school at Gerrit, he's made quite the name for himself. He's most well-known for creating his gravity machine, which uses oppositional forces of gravity and magnetism along with composite material of iron filings and plastic or ceramic with industrial magnets to create his pieces.
Jólan van der Wiel typically lets his art speak for itself and has given few interviews throughout his career. However, Designboom was able to conduct an interview with him which you can read in full here. Not surprisingly, Jólan van der Wiel has said nature is his biggest influence — wishing to create design with minimal human interaction. Most of his pieces are seemingly "simple" as they mimic nature's tendencies, and that's what makes them so extraordinary. 
On why he chooses magnets, he said, "magnetism was one of the most spectacular tools I could create with," noting its ability to amazing people while being "completely relatable" as people can understand how magnetism works. You can learn more about his method in this Youtube video. 
Notable and Current Projects
His first splash into the art world was in 2013 when he worked with Dutch designer Iris van Herpen to "grow" clothing using magnetic forces. Using the same idea of the magnetized clay, they used material made from iron filling mixed with resin. They spilled this mixture onto fabric and used magnets to pull it in different directions — showcasing a spiky texture. In his 2014 project, Magnetism Meets Architecture Project, he created a series of magnetic ceramic objects. We actually wrote about this back in the day, so you can read the  full Apex blog about it here. 
"The idea of creating buildings with a magnetic field has always fascinated me," said van der Wiel. "I'm drawn to the idea that the force would make the final design of the building – architects would only have to think about the rough shape and a natural force would do the rest."
Currently, van der Wiel leads his own collaborative design practice, working with architects, scientists, fashion designers, and brands, and institutions. You can find his latest exhibition, "Design #5: Jolan van der Wiel - Dragonstone" until January 2021 at Keramiekmuseum Princesshof in Leeuwarden (NL) where he shapes his work by using "magnetic forces that look extraterrestrial."
Discover More Magnetic Personalities from Apex Magnets
If you can't get enough of Jólan van der Wiel, get the latest updates of his latest creations on his Instagram. If you're looking for more sneak peeks into magnetic personalities through the ages, check out our past blogs about magnetism's most prominent contributors.