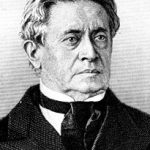 Joseph Henry had a huge impact within the magnetic world during the 19th century. His accolades include his research that led to the first electromagnetic motor and the construction of strong, practical electromagnets. But, let's not get ahead of ourselves. In order to understand how he got there, we first need to learn about the man behind the magnets. 
Early Life
Henry was born in Albany, New York, on December 17, 1797. His father died when Henry was young, so his Grandmother raised him into young adulthood. After receiving an elementary education, Henry became an apprentice to a watchmaker. This time laid the foundation for skills he would use later on in his magnetic research. It wasn't until he enrolled in Albany Academy in 1819 where he discovered and nurtured his scientific interests. 
He was a gifted student throughout his time at the Academy, tutoring other students and even assisting his professors in explaining concepts. This led to Henry becoming a professor at the Academy where he taught mathematics and natural philosophy. His research outside of the classroom began with a focus on terrestrial magnetism, which eventually expanded to other types of magnetism —after hearing about Scientist William Sturgeon's new type of magnet, Henry did his own experiments. He became known for the powerful electromagnets, being the first to lift more than 2,000 pounds, and demonstrated them in front of large crowds. 
Professional Accomplishments
During his work with electromagnets, Henry observed inductance — the property of an electric conductor or circuit that causes an electromotive force to be generated by a change in the flow of the current. He is credited with the discovery of self inductance, involving only a single circuit. He went on to invent a predecessor to modern direct current motors, telegraphs, and further experimented with electromagnetism, the study of sunspots, investigations into acoustics, and experimental work in ballistics. 
In 1846 Congress founded The Smithsonian Institution with Henry being chosen as the first secretary. At the time, he was known as the best American scientist alive. Many of the policies Henry established during his time at the Smithsonian are still in place today.
Learn More With Apex
Thanks to Joseph Henry's research, we now understand self-inductance and other electromagnetic concepts. If you enjoyed reading about this piece of history, there are plenty of magnetic personalities to discover on our blog!
Photo Credit: Britannica