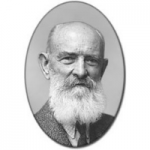 Along with founding the Robert Bosch Gmbh Corporation, which you may recognize from your kitchen appliances, Robert Bosch made major contributions in the electrical engineering field in the early 1900s. In the scientific community, he's best known for his adaptation of magnetos to vehicle engines, which was a groundbreaking discovery for the automotive industry. It's safe to say Bosch had a big influence on the magnetic world — keep reading to see how his discoveries relate to modern magnets today!
Early Life
Robert Bosch was born into a family of wealthy farmers in Württemberg, Germany, on September 23, 1861, being one of 12 children. After attending primary and secondary school, Bosch completed a three-year apprenticeship as a precision mechanic. Following his apprenticeship, he began attending classes at a technical university. When he was 18, he made the trip overseas in order to finish his training as an engineer. While in Great Britain, he worked as a mechanic for the Siemens Brothers before heading to the US to work at Thomas Edison's laboratory.
At age 25, Bosch returned to his home country of Germany to open a workshop for precision mechanics and electrical engineering with a specialty in light engineering and telephone/telegraph installation and repair. His workshop would go on to become the famed Robert Bosch GmbH Corporation.
Bosch's Legacy
Bosch is most known for making integral improvements to the magneto — an electrical generator that depends on a permanent magnet to deliver alternating pulses — and being the first person to use the magneto on vehicle engines. Because of his adaptation of the magneto, the industry learned how to generate a current to spark the air-gas mixture in internal combustion engines. This differentiates it from steam engines of the time, which had to rely on an external combustion source. Nowadays, magnetos power all kinds of different engines. The likes of which are found in chainsaws, lawnmowers, and even your car!
Get The Latest Magnetic News With Apex
We are constantly updating our blog with all things magnetic. To be in the know about magnets, magnetic breakthroughs, and industry news (as well as getting some really great discounts), subscribe to our newsletter or check out our blog.