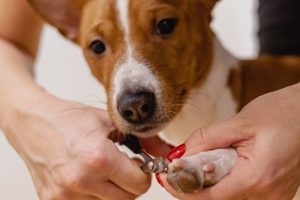 Do you own a pet grooming business? Maybe you operate out of your home. Regardless of how you do business, magnets can help streamline your services and optimize your operation. If you're interested in magnetic hacks for your business, keep reading! We're going to give you a simple technique you can use to measure your pets' nails and make sure you don't over-clip and cut the quick. 
Use Magnets to Measure & Trim Pet Nails
What You'll Need: 
Steps to Use Magnets 
Stack a group of magnets together based on exactly how far close you want to trim.

Attach magnets to the metal of the pet nail trimmers, right on the horizon. 

Place the end of the stack of magnets under the dog's nail, lining up the magnetic stack length with the nail length.

Clip safely to the desired length!
Safety Note
Be aware of where you store your magnets. While they are strong enough that they won't go flying over the nail clippers with a slight bump, you don't want any curious pups to find your supply and accidentally ingest a magnet. As long as they're stored safely, securely, and out of sight, you should be in the clear.
Apex Magnets: What's Best for Pets
Do you have any follow-ups about how to use neodymium disc magnets to safely trim your dog clients' nails? Reach out to us! We love talking through these things with our customers. If you're also a pet owner (we think there's a pretty good chance you are!), check out our blog, Magnetism and Pets.