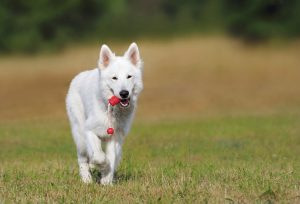 In America today, over 38% of households own at least one dog. If your home isn't complete without man's best friend, you understand that not only will dog parents do anything for their dog, but they'll spend almost any amount of money to do so. Whether you're training an 8-week-old bundle of fluff with endless energy or teaching your old dog a new trick, magnetic dog balls are the perfect, cost-effective toy to train without the hassle.
Many dog owners are discovering magnetic balls as a valuable hands-free reward system that actually works! The main objective of this concept is to get your dog's attention and keep it without fumbling with toys or treats, distracting your dog's focus. Proper training is achieved through consistency and speed; however, the latter can be difficult to manage with an excitable dog or when you are carrying a leash, water bowl, and other pet essentials. With this simple training tool and a bit of practice, you can provide your dog with a mentally stimulating activity that improves their focus and attention span. 
Supplies: 
Chew King Ball

(4 inch balls work best)   

An old leash or strong piece of rope from any hardware store
Instructions: 
Insert your 1/2" neodymium magnet into the Chew King ball

(the 1/2" magnet cube should fit securely inside the 4" Chew King ball to avoid the magnet falling out)

Thread the old leash or rope through the center of the ball (the rope also serves as a safety measure to ensure the magnet is securely held in place) 

Tie a double knot or another type of sturdy knot to secure the rope in place (monkey's fist knots work well) 

Cut the leash or rope to your desired length (if necessary) 
Once you have finished making your DIY magnetic ball, you can also get creative and make your own magnetic shirt/vest to hold your dog's new favorite toy. With many magnetic vests coming in at over $100, you can easily save the cost and make your own with the help of disc magnets. 
Simply take 1"x1/4" disc magnets and attach one under your shirt and the other magnet to the outside of your shirt to form a tight bond. Many dog experts recommend placing a light t-shirt or article of clothing over the exposed magnet to avoid any potential hazards for your dog. Once you have placed the magnets at your desired locations, you're ready to start training! Always remember to place your magnetic ball and magnets from your t-shirt in a safe location where your dog cannot access them once you are finished. 
Warning: Do not attempt this DIY magnetic dog training ball if you have a pacemaker. 
Get Crafty With More DIY Projects From Apex Magnets
If you're ready to start your next DIY magnetic adventure, check out our blog for more fun-filled ideas for you, your four-legged friends, and the rest of the family. Visit our website to discover our wide selection of magnets in-stock and ready to ship the same day (includes all orders placed before 3 PM). 
We want to see your magnetic masterpieces. Show off your crafty creations or household hacks on our Facebook page! You may see your idea on our next blog!