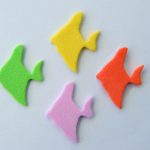 Are you running out of games to play with your little ones but have little patience to make an elaborate craft? Try out this DIY magnet fishing game! The best part? It can double as "science class" as you can explain the mechanics of magnetism to them with this visual aid. 
It's important to note -- while the magnets are secure inside the felt fish and there's less of a chance of pinched fingers, extra caution and close supervision should be taken when using magnets near children. 
What You'll Need:
Paperclips

Felt -- different colors but at least 1 blue piece for the water

Fabric cutting scissors

Marker

Magnet--

1, ½" x 1/16" adhesive-backed disc magnet

per rod

Long thin stick -- 1 for each rod

Twine

Googly eyes (optional)

Hot glue gun (if using googly eyes)

Fish pattern
Steps:
Decide which color felt and how many fish you want to create. You can either freehand draw a fish or print out a template. Either way, trace a few fish from each color felt. 

Using any color felt, lay the magnets down and trace around them to create 2 felt cut-outs for each magnet.

Cut out the felt fish and slip a paperclip on each fish. 

Glue googly eyes on each fish and let dry.

Tie twine to one end of the stick. We recommend a double knot towards the top of the stick, but, you could also glue the twine to the stick to ensure it stays put!

Set up your "bait" by laying the other end of the twine on top of one side of the magnet and then attaching a piece of felt on one side of the magnet. Repeat to add another felt piece to the other side of the magnet. Since the magnets are adhesive-backed, they should be able to stick to the fabric, but, if you're finding they're not, you can glue the felt to the magnet -- be sure to let the glue cool off first though! 

Lay out the blue fabric and lay the fish on top of it! 

Get to fishing! Telling kids to try to pick up the fish by the paper clips as this is what will "hook" the fish to the pole!
Get DIYs, Magnet Hacks, and more with Apex Magnets
For older kids, you can create a shark or two and make it a game to not catch the shark. Though this DIY works great as a no-sew quick craft, for a more polished look, you could use some sewing magnets and stitch them onto the felt. For more DIYs like this, check out the magnets for crafts section of our blog!