This closet organization hack is a fairly simple and highly satisfying way to add more storage space to your closets. In winter, you'll have extra room for coats and scarves, and in spring and summer, you'll have a place for light jackets, beach bags, and dog leashes.
Primarily, you'll need four 18-pound swivel hook magnets, but don't forget to add a few other items to your shopping list:
What You Need
To organize your closet with Apex hook magnets, gather the following items: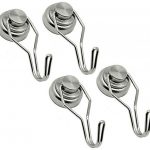 Piece of wood (sized for your space)

Similarly sized strip of ferrous metal

Paint (optional)

Small screws

Adhesive strips (optional)
Steps to Organize Your Closet with Apex Hook Magnets
Go to your local hardware store to find a piece of ferrous metal; if you want, you can paint it a preferred shade; let it dry.

Using four small screws, adhere the ferrous metal to the piece of wood, which should be sized for the space in mind.

Attach the magnetic block (metal on wood) to the wall with adhesive strips for flexibility or screws for a permanent solution.

Note: The wood faces the wall, while the metal faces outward.

Place your swivel hook magnets on the magnetic block.

Hang items to maximize space!
Show Us Your Magnetic Crafts! 
We love sharing the many ways magnets can help upgrade our living spaces. Do you have a magnetic hack in your household? Send us an email or share on our Facebook page, and we might include you in our next blog. For more DIYs, check out the magnets for crafts or fix it with magnets sections of the blog.